Bose announces new portable home speaker with Google Assistant, Alexa and AirPlay 2 support
1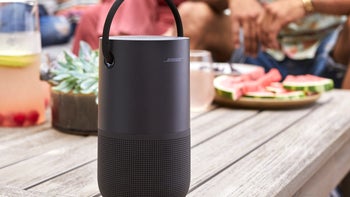 It looks like there's a large audience for smart speakers and Bose definitely wants a piece of the pie. The latest home speaker revealed by the US company earlier today offers support for two of the biggest digital assistants available on the market –
Google Assistant
and Amazon Alexa.
On top of that, the Bose Portable Home Speaker features
AirPlay 2 support
, which will allow users to play music from Apple devices, or Spotify Connect to listen directly from the Spotify app.
The problem is that this is rather a premium product, at least that's what the price suggests. The Bose Portable Home Speaker will be available in Triple Black and Luxe Silver on September 19 for $350.
The portable Bluetooth speaker, as anyone can see from the pictures, is cylindrical. It measures 7.5-inch high and just over 4-inch across, and wrapped in a seamless, anodized aluminum enclosure to enable its audio performance.
Bose
says
that unlike traditional speakers, there's no sweet-spot for placement or listening, so you can put it anywhere and it should deliver the same audio experience. Moreover, the Bose Portable Home Speaker is water-resistant with an IPX4 rating, which should allow it to survive spills, splashes, and rain.
The smart speaker comes with an integrated handle and can charge through standard USB-C, or a charging cradle that's sold separately for $30. More importantly, the device offers up to 12 hours of battery life.