Blurry shot of the new Sense 6.0 BlinkFeed for HTC M8 leaks out, confirms on-screen buttons
33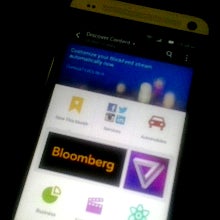 The
HTC M8 aka One 2
is fast approaching, likely to be released as soon as next month. The latest specs roundup includes a 5" display with 1080 x 1920 resolution, a 2.3 GHz quad-core Snapdragon 800, and 2 GB of RAM. The back should be seeing some dual-lens camera tricks and a wide-angle front one should be pegged at 5 MP this time around.
These are not the only beauties of it, it seems, as it is highly likely to run Android 4.4.2 KitKat from the box, with a new
Sense 6.0
tacked on. We are now getting the first real-life photo of the new BlinkFeed - HTC's RSS and social feeds aggregator - which shows some much different visuals than what we are used to with Sense 5.5, as currently found on the
HTC One
and the gang. The handset used here is tipped to be a dummy box, utilizing the One's chassis anyway. so it might not be indicative for the M8's actual front.
Categories, and large, flatter icons seem to play a bigger role in the new BlinkFeed, and we can't wait to see it in action on the HTC M8 aka One 2 flagship soon. Moreover, the shot confirms
on-screen buttons might indeed be in store with the phone
, yet another reason to look forward to the grand unveiling.