Blu Life One X2 Mini is more expensive and more powerful than its larger brother
6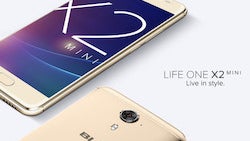 If you're in the market for a new smartphone that's around $200 or less, the options you have to choose from today are more plentiful and worthwhile than they've ever been before. Blu is a company that consistently releases new hardware within this price bracket, and the latest handset from the Miami-based business that aims to offer a fair amount of phone for not a lot of dough is the Blu Life One X2 Mini.
The Life One X2 Mini is a smaller and more compact version of the
Life One X2 that Blu released last September
, and this is noticeable right off the bat with the Mini's 5-inch 1080p FHD display as opposed to the One X2's 5.2-inch screen size. The Mini also has a smaller battery at 2,300 mAh (3,000 mAh on the X2), but this petite smartphone is superior to its larger counterpart in some pretty key areas.
Blu's Life One X2 Mini comes equipped with 4GB of RAM and 64GB of onboard storage that can be expanded via a microSD card, and this is noticeably better than the 2GB of RAM and 16GB of expandable storage that come with the base model of the One X2. The processor is the same between both handsets with the Snapdragon 430, but you should notice faster multitasking performance on the Mini.
Along with a good amount of RAM and plenty of space for storing all of your local files, the Life One X2 Mini also has a 13MP camera, 8MP front-facing shooter, fingerprint scanner, support for two simultaneous SIM cards, and runs Android Marshmallow out of the box.
Blu is selling the Life One X2 Mini in Gold, Grey, and Rose Gold from Amazon starting today with a price tag of $180. This isn't a groundbreaking handset by any means, but if you're in the market for a capable phone for under $200, it's definitely worth checking out.