The new Blu Life One X2 comes with 4GB of RAM and 64GB of storage at just $200
13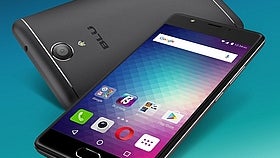 Earlier today, Blu unveiled the One Life One X2. As the name clearly suggests, this new phone is an updated version of last year's
Life One X
, and, just like its predecessor, it packs quite a punch for its starting price of just $150.

Just like the original Life One X, the X2 comes with a 5.2-inch display running at 1080 by 1920 pixels. Under the hood, the handset is powered by the Qualcomm Snapdragon 430 chipset, an entry-level chipset that features a 1.4GHz octa-core CPU.

One of the most significant upgrades that the new model brings compared to its predecessor can be noticed in the camera department. The Life One X2 is equipped with a 16MP primary camera on the back and an 8MP selfie shooter with a wide-angle lens on the front.

Other specs include a fingerprint scanner, Corning's Gorilla Class 3, as well as a 3,000mAh battery with Qualcomm Quick Charge 3.0, a technology that will enable the phone to charge 70% of its battery in just 30 minutes. Speaking of charging, this is done through an USB Type-C port.
Like all of Blu's phones, the Life One X2 is sold unlocked and is compatible with AT&T, T-Mobile, Cricket, MetroPCS, Straight Talk, Pure Talk USA, and other GSM carriers in the US.

There are two versions of the Blu Life One X2. One comes with 16GB of integrated storage space and 2GB of RAM. The better model is equipped with 64GB of storage and 4GB of RAM. The phones will be priced at $150 and $200, respectively. The package includes the phone, its charger, earbuds, and a silicone case.
Judging by the specs, the Blu Life One X2 offers great value for its price. If you can afford it, it's probably best to go for the version with 64GB of integrated storage and 4GB of RAM.

The BLU Life X2 will launch on October 7th. However, if you want to save $15-$20, you can go right ahead and pre-order the handset from Amazon.

What do you guys think of the new Blu Life One X2? Tempted to get one as a backup phone?