Bling! Golden HTC One is official, but you can't pay its $4400 tag
25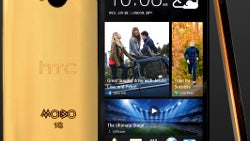 The rumored
golden HTC One
is finally confirmed, and by Phil Blair, HTC President, Europe Middle East and Africa himself at that. The handset will be presented at the MOBO Awards 2013, for the winner in the Best Newcomer category.
Dipped in 18-carat gold, the posh
HTC One
will have a a laser-etched MOBO 18 logo on the back, and a whopping street price of about $4400. Well, not exactly street price, as this thing is never hitting retail, and only five units have been manufactured, keeping it exclusive.
This golden HTC One is actually prepared by Goldgenie, which can coat even your mountain bike in the yellow metal. As a consolation for those of us who have no chance to be the Best Newcomer category winners in the MOBO Awards 2013, Goldgenie is actually offering to cover your HTC One in 24-carat gold for the reasonable everyday price of about $1600, which now seems like a bargain, compared to HTC's MOBO undertaking.