BlackBerry prides itself in being the first to release monthly Android security updates
99+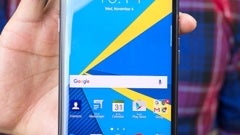 Last year, shortly after the discovery of the Stagefright vulnerability, Google and various Android manufacturers have committed to
delivering monthly security updates
in order to avoid exposing users to new threats. Once it launched the Priv - its very first Android handset -
Blackberry also joined the bandwagon
. Now, four months after Google started releasing monthly security patches, BlackBerry takes pride in being the first OEM to actually roll out these updates.
As you can see in the table below (provided by BlackBerry), the Canadian company is the only one to deliver security patches with no delays, as soon as Google is making them available - this includes the March update, which Priv users have received on March 7. Other OEMs - which BlackBerry doesn't actually name - have always been late (to various degrees) with the monthly patches. Of course, since it only has one Android smartphone, it's easy for BlackBerry to always be quick in rolling out updates, but that doesn't mean we shouldn't appreciate the company's zealousness.
Unfortunately, the
BlackBerry Priv
is still running Android Lollipop, though an update to Marshmallow should arrive sometime in the coming months. At the moment, an unlocked BlackBerry Priv can be bought for $649. To find out more about the smartphone, check out our
BlackBerry Priv review
.