BlackBerry awarded patent for unlocking phone via wearable device
99+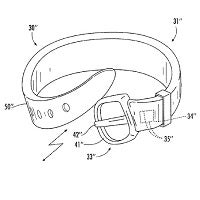 This is a feature that one might have thought was already on the books with the US Patent and Trademark Office, but as it happens, BlackBerry has added a new patent to its portfolio.
The concept in broad terms is not necessarily new, a wearable device that whose proximity would bypass a lock code on a smartphone. In fact, the idea was brought up and presented
during Google I/O
as a feature that might be implemented via Android Wear.
The difference for BlackBerry is that this patent surrounds a stand-alone device with a physical clip that must be closed to allow the wearable to function. It sounds like a small detail, but that distinction would eliminate concerns someone might have about their device being unlocked in proximity of the wearable if wearable itself is not being worn (like a watch sitting on the nightstand).
The patent filing does not guarantee a wearable is in the works, but given BlackBerry's renewed vigor, and declaration that it would be pushing the envelope with future products on the heels of the
warm reception
of its newly available
BlackBerry Passport
, we would not rule out a wearable from Waterloo.
via:
MobileSyrup