Chen: Demand for BlackBerry Passport exceeds expectations
46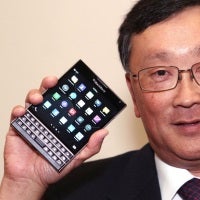 BlackBerry CEO John Chen is happy that there are shortages of his new business-centric handset, the
BlackBerry Passport
. Chen says that this indicates strong demand for the device. He would rather see issues develop with inventory, than build too many units. The executive says that the company was focused on the 30% of the smartphone market where the owner sees his device as a tool instead of an "
entertainment portal
."
BlackBerry sold 52.3 million units in 2010. By last year, sales had declined to 13.7 million phones, leaving many to question whether BlackBerry could survive. But CEO Chen has the company on the right path. With its square 4.5-inch 1440 x 1440 screen, the Passport is perfect for viewing spreadsheets, documents and emails. And with BlackBerry Blend, business users can take the Passport into the field while using BlackBerry Blend to access the information in the office using a PC or tablet (ironically, not the
BlackBerry PlayBook
).
"I'm glad to have inventory issues. It shows that people want the phone. We took a very conservative approach and didn't order too many."-John Chen, CEO, BlackBerry
BlackBerry has already green lit a sequel to the Passport, in light of the strong demand the handset has seen. And next month, the
BlackBerry Classic
, Chen's reward for longtime BlackBerry users, will be unveiled. With a physical QWERTY trackpad, and old-school function keys, this is a treat for 'Berry users who want hardware that reminds them of the good old days, but powered with today's BlackBerry 10 OS.
With the BlackBerry Passport kickin' it at the top end, the BlackBerry Classic aimed at the mid-range, and the
BlackBerry Z3
covering emerging markets, it sounds like the manufacturer has its ducks in a row for the first time in years.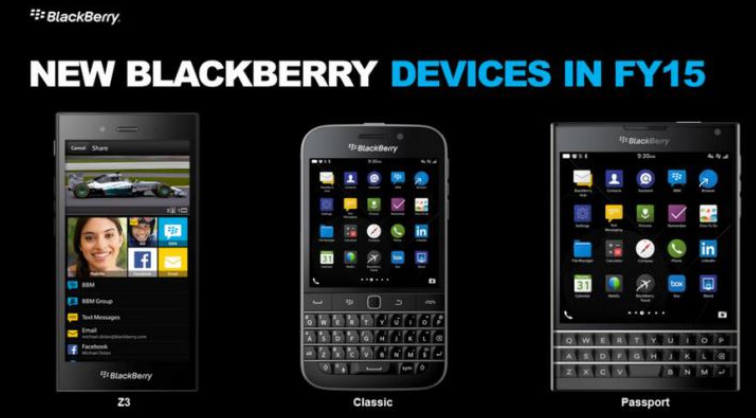 BlackBerry's lineup has never been stronger
source:
TheGlobeandMail
via
Crackberry