BlackBerry Tour to have a touchscreen?
13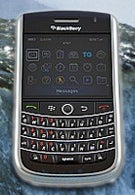 One of our tipsters has just let us know that the long-rumored
BlackBerry Tour 9030
actually combines a QWERTY keyboard with a touch-sensitive screen, much like one other rumored smart phone of the same the manufacturer – the
BlackBerry Magnum
. Like it or not, the screen seems to utilize the SurePress technology, used in the first Storm, although it caused some negative feedback. Probably this is why RIM CEO Lazaridis said there would be more SurePress phones, although the
Storm 2
is not one of them. Still, a trackball and the much loved BlackBerry QWERTY will be both on board, so the touchscreen will not be your only option to operate the device. Check its preliminary specifications to find out more info!
RIM BlackBerry Tour 9030 Preliminary Specifications
Thanks Striker!
Related stories: