BlackBerry Tour to arrive in mid-August, while an e-mail mentions it and the Pre
14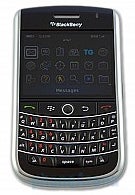 We have received new info on the hot
BlackBerry Tour
from one of our tipsters. To start with, a sales rep in San Antonio, TX has hinted that the Tour should not be expected to hit the shelves anytime earlier than mid-August. Yesterday, another tipster made
all our hopes run on high
by saying the handset actually features both SurePress touchscreen and QWERTY keyboard. We guess we'll know for sure by the end of the summer.
An interesting story has also reached our ears going the Tour and the
Palm Pre
were mentioned in a "Verizon only email". An image said to have been found in the message clearly indicates that both handsets have been added in some 5 Star Referral Tool, with the purpose of the latter to capture consumer interest.
BlackBerry Tour 9630 Preliminary Specifications
Palm Pre Specifications
|
Hands-on
Thanks Ace, anonymous tipster!