BlackBerry Style 9670 is found on video looking good against the Pearl Flip
3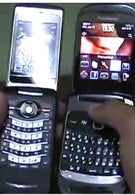 When news first broke about the the BlackBerry Style 9670, with its clamshell form factor that's similar to the BlackBerry Pearl Flip, there were many critics out there that quickly mocked it for its supposed ugly design. After some additional
photos
and
videos
help shed some of its previous reputation, it's starting to garner a commanding amount of respect from other traditional BlackBerry smartphones out there.
Although some would argue that it's a gamble in itself, especially when the Pearl Flip didn't exactly bring the clamshell design to the hallmark of RIM's presence, the BlackBerry Style 9670 appeared in Spanish videos that show off its grace – both from a hardware and software side. As you can tell from watching the first video, which is mostly focusing on its hardware, the Style 9670 is surely starting to shape up. In the second video, we get a closer look at the platform and it makes known that the handset is running firmware v6.0.0.203.
All in all, it's looking like the once regarded ugly duckling is beginning to
blossom to one stylish swan that's ready to take on the world
.
RIM BlackBerry Style 9670 Preliminary Specifications
via
CrackBerry