Demo videos of the BlackBerry Style 9670 show off some of it features
1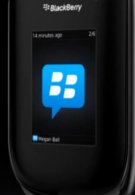 The good saying of "looks can be deceiving" always seems to stand true for most situations, but in the case of the BlackBerry Style 9670, it's still very difficult to make a final judgment until it's officially out and in the hands of consumers.
In the mean time, we can all watch some of the recently added demo videos regarding the unusual looking BlackBerry handset in action. Not only do the videos meticulously show off the alluring design of the Style, but they also provide us a sneak peek to some of the core functions of the smartphone.
Although some might have already passed judgment on this phone, these tutorial videos undoubtedly make the handset look pretty interesting from all angles. Let's just hope that the final product will be just as tantalizing.
RIM BlackBerry Style 9670 Preliminary Specifications
via
CrackBerry