RIM BlackBerry Pearl Flip 8230 Review
7

Introduction:
The clamshell phone has been the standard for nearly a decade now, but the form factor never lent itself well to smartphones. Sure, we saw an
i500
here and a
PN820
there, but they've all been outliers in a bar and slide dominated market. In their quest to penetrate the consumer market you can now add RIM to the list of these outliers; they introduced the
Pearl Flip
last year on T-Mobile. In terms of features it's basically identical to the
RIM BlackBerry Pearl Flip 8230
, the difference here is form factor. Will this be enough to breathe life into the aging Pearl?
Included in the box you'll find:
• AC adapter
• microUSB data cable
• Stereo headphones
Design:
The RIM BlackBerry Pearl Flip 8230 is a clamshell phone. While on the larger side, the size still feels good in the hand when closed. It's about the same size as the
Samsung Alias 2
, another flip phone with a full keyboard. Of course the Pearl Flip doesn't exactly have a full keyboard; RIM employs their SureType keyboard for space saving just as on the Pearl.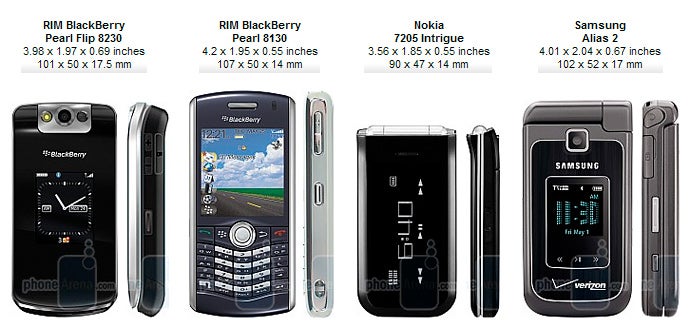 You can compare the RIM BlackBerry Pearl Flip 8230 with many other phones using our Size Visualization Tool.
The
keyboard
will again be love/hate, with us falling into the latter category. It feels even more cramped this time around, despite the width being essentially the same. The keys are harder, which does help RIM's case. They have plenty of travel and feedback, but the overall feeling is cheap. Materials are an issue throughout the device; the front has a nice glossy finish, but the rest of the device is constructed of cheap plastic.
The
displays
are good enough. The outside one is 1.6" and 128x160, and internally you'll find a 2.6" QVGA panel. They are both crisp and easy to read in all lighting conditions. The 2 megapixel camera sits atop the front of the flip with the LED flash. On the left side of the phone you'll find the mute switch, a 3.5mm headset jack, the microUSB port and a convenience key. On the right is the other convenience key, the volume rocker and microSD slot. The speaker is on the phone's tiny chin.
The overall feel of the device
is pretty poor when opened. For starters, the trackball is very recessed out of necessity, but it feels awful. When you hold it to your face the top half of the flip is set back, causing the bottom to rest against your cheek. All-in-all we very much dislike the feel of the opened Pearl Flip, both because of the design and because of the cheap materials RIM has chosen. On the whole we can't say we're crazy about the design of the RIM BlackBerry Pearl Flip 8230 and think RIM should stick to their tried and true bar form-factor.
RIM BlackBerry Pearl Flip 8230 360 Degrees View: Recommended Stories