BlackBerry Q10 with back cover made of rubber is pictured
16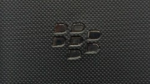 Pictures of the
BlackBerry Q10
have been discovered, but with a twist. Instead of the
woven glass black
that has become associated with the device, the pictures show a rubberized cover similar to what is on the back of the
BlackBerry Z10
. We don't expect this back to be original equipment for the phone, after all it already has been introduced with the carbon glass look-a-like. But who knows? BlackBerry might offer this as a replacement accessory for the Q10.
Another pictures shows that the physical QWERTY equipped BlackBerry 10 model will feature a
2100mAh cell
as opposed to the 1800mAh battery on the BlackBerry Z10. This could offer full day power for moderate users and might even be enough juice to power up the pinstriped power user close to a whole day.
Now that we know that
T-Mobile's business customers are getting their first crack at the BlackBerry Z10 on March 22
, we could see the BlackBerry Q10 touch down as soon as
mid-May
in the U.S. Many analysts feel that the Q10 will be the model that takes off in the U.S. where BlackBerry users are familiar with and demand that amazing physical QWERTY keyboard that has become a hallmark of the BlackBerry name.
source:
Crackberry