BlackBerry PlayBook video demonstrates corporate capability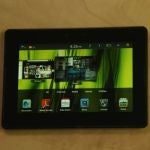 RIM
has always had its greatest strength within the corporate/enterprise market. But, since losing much of their consumer smartphone footing, they have been marketing more and more to the average Joe. Not forgetting their corporate roots, the BlackBerry Business Blog has released a demo video of the PlayBook's corporate capabilities.
In the video, the RIM Product Team demonstrates how the
PlayBook
pairs with your corporate BlackBerry device. They stress that the connection between the phone and tablet is a secure Bluetooth connection, and that the PlayBook will delete all corporate information when the connection is terminated. That way, the user can make use of their own PlayBook without freaking out their IT professional.
The video also demonstrates how the PlayBook, when connected to your BlackBerry smartphone, will sync information such as read messages, etc. So how excited are business users for the PlayBook? Is your company looking to supplement their enterprise network with RIM's new super-tablet?
source:
BlackBerry Business Blog