RIM to produce just 150,000-200,000 BlackBerry PlayBooks a month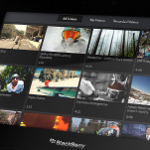 Part makers working on the BlackBerry PlayBook told DigiTimes that RIM apparently is settling into production of the tablet at a rate of 150,000-200,000 units built per month. While production has allegedly started on the tablet, the original goal was to have 1 million units ready by March for a wide release. Now, this seems out of the question.
RIM is also tightening up security. To prevent a repeat of what happened to Apple's iPad when it was cloned in China, the Canadian manufacturer is considering having all PlayBook production made by Quanta in Taiwan instead of outsourcing some production from China. This would keep blueprints and specs out of the hands of those who might arrange to have clones manufactured. But producing the tablets in this fashion will end up with RIM launching the product in the U.S. during March, followed by an international release in the spring. There still is some room for Quanta to increase production in Taiwan if RIM wants to expand the production of the BlackBerry PlayBook due to strong pre-launch demand, but getting inventory to the earlier hoped for 1 million by March appears impossible.
source:
Digi-Times
via
electronista