BlackBerry Mobile will look for a better adhesive to keep KEYone screens from popping out
65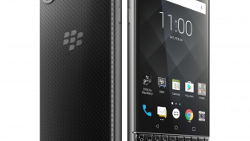 Yesterday, we told you about a video that claimed
BlackBerry Mobile failed to use adhesive on the BlackBerry KEYone's screen
. This allowed the display to pop out of the phone when some pressure was applied to it. In addition, owners of the phone have been complaining about the screen popping out when the handset was dropped on something as usually benign as the plastic middle console on a car.
BlackBerry Mobile has issued a statement in response to the video explaining that the KEYone was subject to a series of stress tests to see how the handset would respond in real world scenarios. The company noted that out of the thousands of KEYone units shipped and sold globally, only a small handful reported this defect with the display. The firm did say that if you own a KEYone that has a display that popped out, it will replace the device under the original warranty.
While the original video showing the screen popping out of the KEYone claimed that BlackBerry Mobile did not use adhesive on the display, that appears to be incorrect as others have found a black-colored caulking type material that was used on the phone. This material is seen on the original video. Still, it obviously is not enough to prevent the screen from separating from the frame under certain conditions. BlackBerry Mobile says that it will also be "actively examining additional adhesive measures" in order to find a better one that will keep the display in place.
"TCL Communication has a long-standing track record of delivering high-quality devices to our customers around the world, and the BlackBerry KEYone is no different. To ensure the highest quality in the BlackBerry KEYone, we used strong, durable premium materials and conducted rigorous stress tests on the device throughout the product development cycle to meet the real life use standards our customers demand. While the BlackBerry KEYone is being met with great enthusiasm, we are aware of the concerns around potential display separation on the device. Out of the thousands of BlackBerry KEYone smartphones that have been shipped and sold globally, only a very small handful of customers have reported this kind of issue."-Statement from BlackBerry Mobile
Kudos to BlackBerry Mobile for taking responsibility immediately and offering to make things right for affected KEYone owners. The company needs to show that this is not an everyday occurrence, and that if it does happen to someone's handset, BlackBerry Mobile will properly take care of the matter. So far, the company has hit its marks perfectly.
source:
CrackBerry