BlackBerry Messenger for Android shown in video
7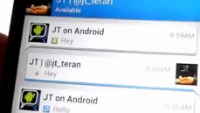 Presumably, we are less than three weeks away from the launch of BlackBerry Messenger for Android and iOS, because BlackBerry said that the app would be launching in the summer, and summer ends on September 22nd. We have seen a few leaks surrounding the app already, but now we're getting to see it on video for the first time (assuming the video stays live).
Fair warning to start, BlackBerry has already requested the original posting of this video to be pulled, so there is no guarantee that this video will last all that long. The video has a fairly solid walkthrough of BBM for Android, which looks a lot like how you'd expect. It comes complete with group chats, all the emoticons you might want, and even the familiar BBM notification bell.
Additionally, there is a cool option where you can add a contact through NFC if you have an NFC enabled device and you are running Android 4.0+ (the option requires Android Beam).