BlackBerry A10/Z30 caught on camera next to the Z10 and Q5
4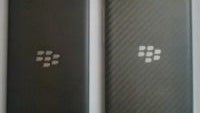 We've been hearing more recently about BlackBerry's upcoming touchscreen flagship device, codenamed Aristo. Originally, we had thought the device would be named the A10, but recently it has looked more like it will be called the
BlackBerry Z30
. Of course, whatever it is called, it's more interesting to see what the device will look like, and for that we have some new leaked pics.
The BlackBerry Z30 is said to have a 5-inch display, and that really shows in the pics where it is set beside the BlackBerry Z10 and Q5. The device looks much larger, but the bezels are still relatively thin, so overall it doesn't look too much wider than the other BlackBerry devices. There isn't too much to be learned from the pics, because the app icons and info have been blurred out.
The Z30 is expected in the next couple months and has been rumored to have a 1.7GHz dual-core Snapdragon S4 processor, an 8MP rear camera, a 2MP front camera, 16GB of storage, LTE connectivity, a 2,800 mAh battery, NFC, and a microSD slot, all running on BlackBerry 10.2.