Best new iPhone, iPad and Android games for July 2012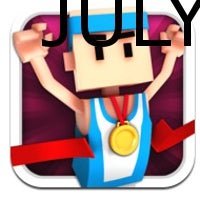 July has come and gone so quickly despite the long days and short nights, but it has left us with a few truly awesome games and if you still haven't checked out the best new arrivals this month now should be the perfect time. We've brought together the best of iOS and Android in one place and this time there is quite a few titles, all of which caught our attention in one way or another.
With the big movie premiers in July, The Dark Knight Rises and Amazing Spider-Man game both climbed to the top of our listings, and they both offer some top notch graphics and excellent gaming experience for both Android and iOS.
Some awesome new puzzlers arrived - Amazing Alex is a game by Rovio, the makers of Angry Birds, and that alone should capture your attention. We also have the brand new Where's My Perry, building up on Disney's hit game Where's My Water.
But the biggest news for Android owners was definitely the arrival of Asphalt 7: Heat on the platform. For just a buck, it's probably the best racing game on Android. The rest was mostly iOS - tons of new launches as we already said - so check them out below, and don't forget to let us know about your favorites in the comments section!
Best new iPhone, iPad and Android games for July 2012