Best new Android and iPhone games (May 19th - May 25th)
1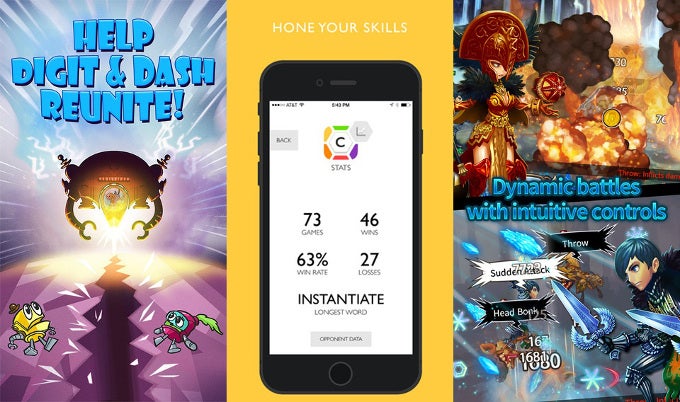 Let's start off the week with some fun with the best new Android and iPhone games so far in May 2015! In our weekly round up of the best new Android and iPhone games we introduce you to everything new and worthy with no limits to the genre, platform, or price. We can't guarantee that you'd love the genre of the game we've picked, but if you do, chances are you'd spend hours playing one of these games.
Lots of interesting new indie titles
This past week brought us no high-profile titles, which is a good thing, since we can focus our attention on some well-deserving indie titles that have arrived on app stores. The Sword of Xolan is our number one pick for the week. Unfortunately, an iOS exclusive, the game features a colorful pixel-art environment and dynamic action platformer fighting.
We've also got plenty of other games in various genres, even a fun word game, so variety is definitely not an issue with these new releases. With no further ado, here are the best new Android and iPhone games for the past week.
Sword of Xolan
Price: $0.99
Sword of Xolan is an action platformer game with a colorful pixel art environment. The story revolves around Xolan, a young and brave man who fight for justice no matter what the cost, and this time Xolan is on an adventure against dark forces and on a mission to restore peace. The game is diverse and fun to play, with 30 hand-crafted adventure levels, 9 time-based challenge levels, 3 "End Of Act" bosses, and more than 30 different enemies like: zombies, giants and flying creatures.
Sleep Furiously
Price: $2.99
Sleep Furiously is a puzzle word game that urges you to unleash your imagination by finding complete sentences in a grid of jumbled words.
Oddwings Escape
Price: Free
Your mission is to fly as far as possible, collect coins and discover keys to release the Oddwings from the evil Dr. Rooster's lab. While you explore beautiful worlds, maneuver your way through the mad doctor's dangerous traps and obstacles: air bombs, poison gases and other exotic perils.
Til Morning's Light
Price: $6.99
An adventure game with a deep story and immersive graphics, Til Morning's Light walks players through the life of Erica Page, an ordinary teenage girl, trying to fit in. She's also trapped in a mansion haunted by a 200 year-old curse. The creepy and not exactly empty mansion is open for her to roam (and escape) - there are clues to decipher, tools to collect, and puzzles to solve.
Drylands
Price: $2.99
Drylands is a game from the good old days of no in-app purchases, and it's a very well made post-apocalyptic RPG action-platformer with lots of quests and stories, engaging boss fights, and a story of a ravaged world. In that world "juice" is the only nutrient and most valuable resource. A prisoner teams up with the people of Serenity and so begins an adventure that will change the wastelands' fate...
Digit & Dash
Price: $1.99
Digit & Dash is the tale of a robot and alien duo separated by a mutant hot dog that splits their world apart, and it's all spiced up with joyful, vivid colors and playful graphics. Control both Digit and Dash by jumping, slamming and dashing as they speed through mind-bending, dangerous levels.
Dragon Blaze
Price: Free (with in-app purchases)
A playable fable accompanied by strategic role playing elements and a different art style, Dragon Blaze takes place a year after a destructive force fell from the sky. Deathcrown, the unrivaled dragon king of the living and the dead, has returned from the ashes, and since his revival, the dragons and a vast number of human tribes have been fighting an eternal war. It's your turn to reclaim the lands, speak to and capture dragons.
Crazy Kings
Price: Free
Crazy Kings is a tower defense game mixture with a collectible card game. In order to win you have to build up your strategy, fight dozens of enemy types, from Minotaurs, to Undead and even feathered fiends. Along the way, you get new items with every victory, and make your hero the biggest and baddest.
Mixels Rush
Price: $2.99
A Cartoon Network game, Mixels Rush is a fun and colorful runner where your main hero undergoes a series of transformations to beat the annoying Nixels in Mixels Rush.
Capitals - Free Word Battle
Price: Free (with in-app purchase)
Capitals is a free and addictive social word game. Play against your friends to spell the best words and expand your territory. Use strategy to defend your capital and knock out your opponent's.
Farming Pro 2015
Price: $1.99
Harvest fields, raise animals, walk around your farm to manage buildings, drive combines, tractors, trucks and semis and master over 50 farm tools and implements in Farming Pro 2015.