Best new Android and iPhone games (March 29th - April 5th)
2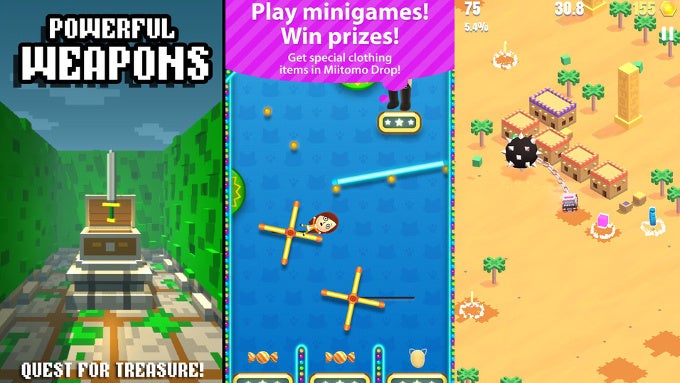 If you are wondering about the best new Android and iPhone games, and you don't want to go through hundreds of new games in the app stores, we have picked the very best new releases from the past week right here.
The games included in this round-up are selected only by their quality and with no regards to genre: you will find casual games, puzzlers, racing games, strategy and everything in-between. The paramount criterion is quality and an engaging gameplay.
The game that we found a soft spot for this week was Perfect Angle, a new puzzler that relies on optical illusions to present you with some quite challenging and visually excellent puzzles to solve. We also loved playing new dungeon crawler Hammer Bomb with its fast-paced gameplay and retro graphics. For these and all the rest of the best new games on Android and iPhone for the past week, take a look right below.
Miitomo
Price: Free
Genre: Sim
Nintendo's first smartphone app, Miitomo, is technically not even a game, but it has a game element in it, hence its place here. With over 100 million users, Miitomo is a messaging app, where you get to design your own avatar called a Mii. Users send messages to others using their own Mii. While the app is free, there are in-app purchases that will allow users to buy certain clothing and accessories for their Mii. Nintendo made it clear from the very first announcement that the smartphone wouldn't be just another platform for their current line of games.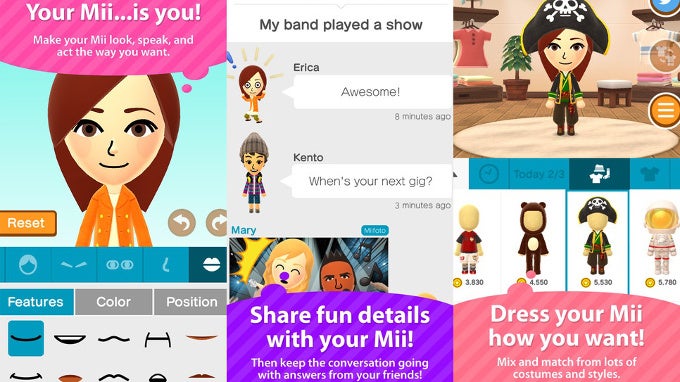 Perfect Angle
Price: $2
Genre: Puzzler
Challenge your mind with puzzles that are based on optical illusions. Find the perfect angle by rotating the camera until order is restored, and discover a story that is full of mystery. Detect the perfect angle in which a chaotic composition reveals the figure hidden behind a game on perspective. Test your visual acuity by accepting a greater challenge each time.
Hammer Bomb
Price: Free
Genre: Dungeon Crawler
Hammer Bomb is a new take on the dungeon style arcade game genre and it stands out with its engaging gameplay and peculiar, retro-styled graphics. It features controls that are easy to grasp, but hard to master. The whole idea is that you roam the dungeons in this virtual world, drop bombs to open secret areas to find the best treasures, and go on quests looking for various types of junk food.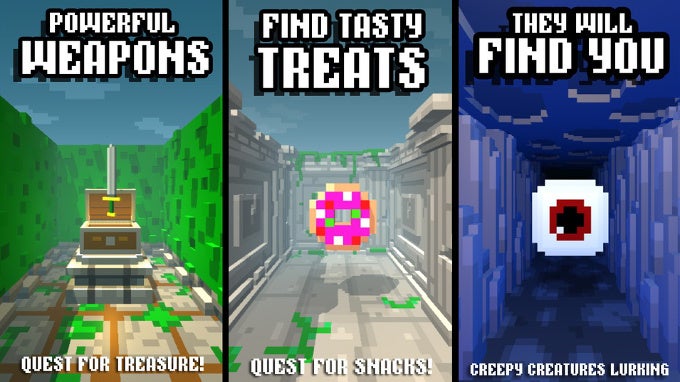 Flipped Out
Price: $3
Genre: Match 3 / Puzzle / Action
Flipped Out is a new action adventure game with match-3 and puzzle elements that you can play in two modes: Sugar, where you fight with your wits, and Spice, where you battle with beasts hand-to-hand. Both modes let you play as Blossom, Bubbles and Buttercup, all at the same time. Team up to take down toughies, or divide and conquer to cover more ground. Unleash spicy and sweet superpowers to demolish the bad guys.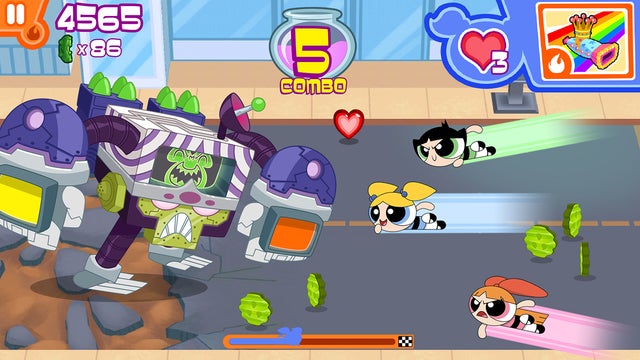 Bro Fist Simulator
Price: Free
Genre: Casual
This one is for all the bros out there. Do your finger ritual, but get your finger in a fist pump before you bump fists with your rival bro. The more complex the finger trick, the more points you get, but if any of your fingers gets in contact with the other fist, you lose those sticky fingers.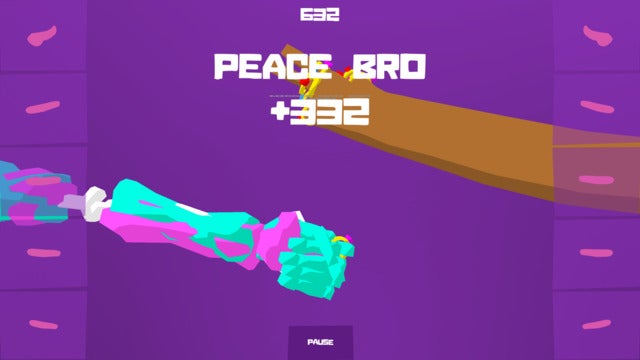 Shadow Bug
Price: $4
Genre: Action Adventure
You are the overpowered ninja hero Shadow Bug! Save your home forest from the evil factory by slicing monsters to pieces. Become the ultimate ninja and adventure through beautiful and twisted landscapes full of action and adventure. The game features one-finger controls and allows you to leap, slash and splash your way forward.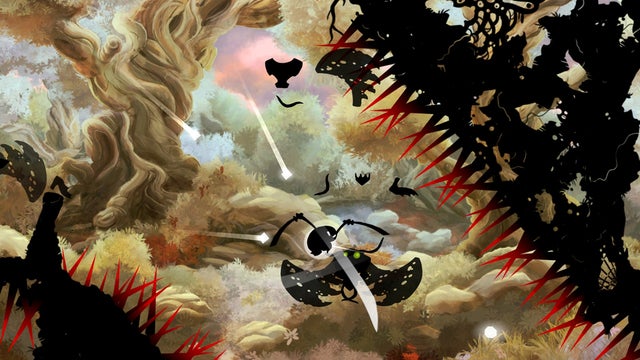 Flail Rider
Price: Free
Genre: Arcade Racing
Blow everything up with a giant flail attached to your vehicle. Flail Rider is a colorful, fast-paced, top down arcade racing game. Drive, drift, destroy and warp from one area to another. The more environment destroyed with your spiked ball, the higher the score.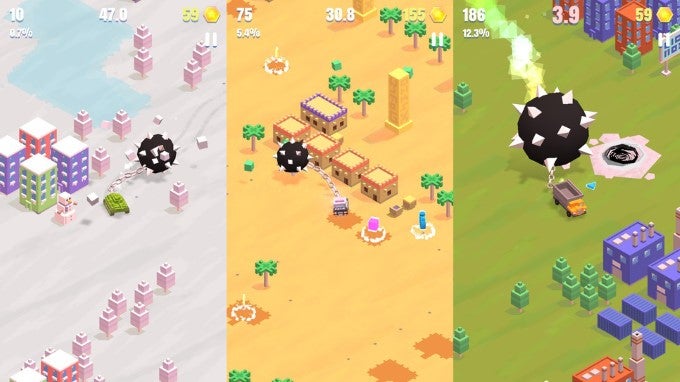 Hex Defender
Price: $1
Genre: Strategy
Hex Defender is a tower defense game with a difference. With most tower defense games the turrets are placed and the position of that specific turret is fixed. With Hex Defender the six turrets are rotatable around a hexagon. There are six colors to choose from for your turrets which will all be effective against six different colored enemy ships; red destroys red for example. Enemies spawn from the left and right of the screen and attack the hexagon to reach the crystal in the middle. Your job is to stop them using strategy and tactics. Positioning, choice and demolition of turrets will be factors in completing a successful mission.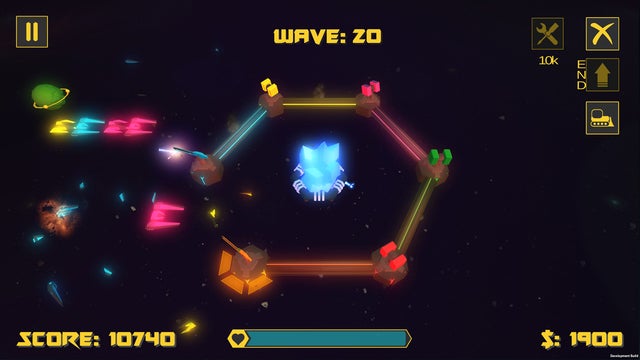 The Slimeking's Tower
Price: Free
Genre: Action Adventure
The Slimeking's Tower is a new action adventure game that allows you to explore a massive set of dungeons with one single goal, and that is to get rid of all slime that comes in your way. You acquire new items as you eliminate slime, and these can be used in order to further improve your abilities. There are many boss battles in the game, and in order to defeat these massive monsters you need to use all skills, abilities and items at your disposal.
Chrome Death
Price: Free
Genre: Arcade Racing
Survive for as long as you can in a cyberpunk city and avoiding the corp agents that have one goal: your destruction. Defeat your friends, earn credits, buy cars and work together with drivers across the world to unlock secret vehicles!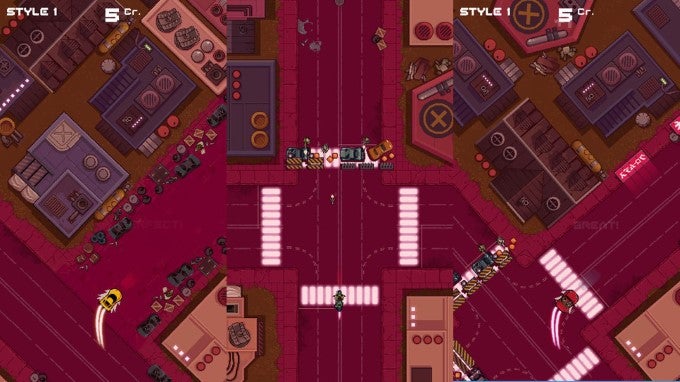 Drop Flip
Price: $3
Genre: Casual
Drop Flip is a new casual puzzler game featuring silly physics contraptions. Move, flip and manipulate obstacles of every shape and size as you accomplish the not-so-simple task of dropping a ball into a bucket.