Best leather cases for the Motorola Moto Z and the Moto Z Droid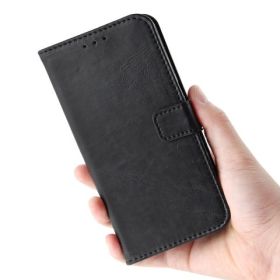 Those looking for the best leather cases for the Motorola Moto Z or Moto Z Droid have landed in the right place.
Are you interested in protecting your brand new Moto Z or Moto Z Droid while still maintaining a classy attire? If that's the case, you should be thinking about getting a
leather case
for your Motorola Moto Z. Sure, leather is a case material that not everyone gets along with, but if you're on the fence, the leather Moto Z cases that we are about to discuss might win you over.
If your favorite leather case for the Moto Z or Moto Z Droid didn't make this list, use the comment section below to drop us a suggestion.

Leather MotoMod StyleShell
We'll start our roundup of the best Moto Z leather cases with Motorola's own leather StyleShell. True, this is not a case in the real sense of the word, but it's actually cooler than that. It's a Moto Mod, a modular component designed to expand on the features of the standalone Motorola Moto Z. In the Style Shell's case, the feature is a back cover made out of various materials. The leather StyleShell Moto Mod won't provide any type of additional protection to your Moto Z or Moto Z Droid but it will provide the touch of leather without adding too much bulk.
The Moto Style Shells are also available in three various types of wood and two types of nylon.
Zase Leather Wallet
If you're on a budget, check out the Zase Leather Wallet. As the name suggests, this one is a wallet leather case; the flip cover contains a clear ID slot, two credit card slots, and a fourth slot for cash. A magnetic lock makes sure that the wallet is closed and the contents secure. Interestingly, this wallet case can be folded to act like a kickstand, a nice little feature that will surely go a long way with YouTube junkies.
At this price, you're probably not expecting to get genuine leather, and you would be right, this one is made from fake leather.
Nillkin Qin Series

Another good affordable leather case for the Moto Z Droid is the leather model in the Nillkin Quin case series, a flip cover case. The texture of the synthetic leather is a bit different compared to the previous case we've mentioned and is available in any color as long as it's black. If you're looking for a cheap faux-leather case with a minimalistic design, the leather Nillkin Quin case should be right up your street.
Vertical Leather Holster Pouch
Let's move on to a more uncommon form factor, a vertical leather holster pouch that you can attach to your belt. One side note here, however, is that the case wasn't designed with the Moto Z in mind. Instead, this leather pouch was designed to be used with a variety of smartphones, meaning that the fit may not be as tight as you'd want it.
NageBee Wallet Pouch Case
The NageBee Wallet Pouch case is yet another affordable leather Moto Z case with a wallet form factor. Compared to the previous models we've discussed here, this one offers a bit more diversity in the design department. Multiple colors are available and some of the models also come with a cool tree print. As the price probably suggests, this case is made out of synthetic leather.


BELK Ultra Thin Classic Wallet


Those looking for that vintage feel should check out the Belk Ultra Thin Classic Wallet. This is a leather case that's stitched by hand and comes with a satin interior lining. Furthermore, a bunch of color options are available. Other than that, this case isn't too different compared to the other leather wallet cases for the Moto Z and Moto Z Droid that we've included in this roundup.


JJNUSA Moto Z Leather Wallet
If you can't stand the thought that other people may have the exact same leather case for the Moto Z as you do, check out this handmade and customizable Moto Z case. This one is made from real leather (available in either brown or dark brown) and customers can have their initials engraved on the back. On the downside, $40 is well above the average for a leather case and shipping may take a while, especially if you want to have your initials engraved.