Best wallet cases for Samsung Galaxy Note 8
4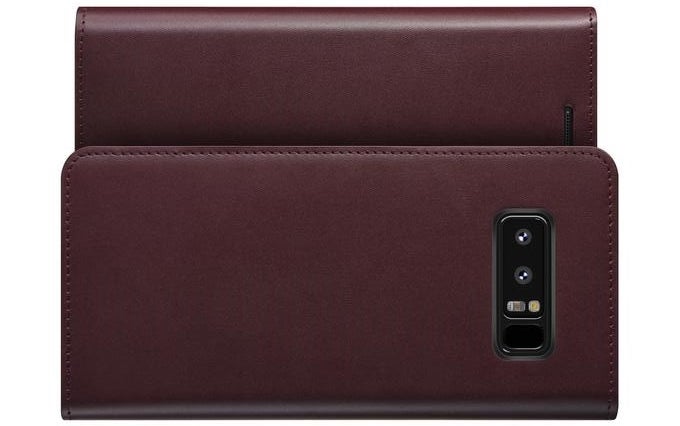 Costing at least $900 (depending on where you're buying it from), the
Galaxy Note 8
is one of Samsung's most expensive smartphones to date. This means you should seriously consider purchasing a protective case for it, assuming you haven't already done that. If you're a fan of wallet cases, we think we've found five of the best models currently available for the Galaxy Note 8 - go ahead and check them out below.
The Samsung Galaxy Note 8 wallet cases seen here are listed in alphabetical order, and range from cheap to slightly expensive. For those wondering, all models seem to be compatible with wireless charging.
Amovo 2 in 1 wallet case for Galaxy Note 8
Thanks to a detachable design, this Amovo product includes a protective inner case that can be used on its own with your Galaxy Note 8, as well a wallet that can be wrapped around the phone (and said case) whenever you need it. The inner case is made out of tough polycarbonate (PC) and thermoplastic polyurethane (TPU), while the outer wallet - which features 3 pockets for cards or ID, and 1 pocket for cash - is made out of synthetic leather. For your convenience, the Amovo 2 in 1 wallet case comes with a hand strap. You can get the case in five color variants - black, brown, red, cyan, and pink.
iPulse Journal case for Galaxy Note 8
Made from Italian full grain leather, the iPulse Journal case will give your Samsung Galaxy Note 8 a nice vintage look, while providing adequate protection thanks to an inner TPU shell. This wallet case has a total of 4 pockets, and can be easily transformed into a kickstand. Available in cognac, vintage black, and vintage brown, the iPulse Journal case comes with lifetime warranty.
LK wallet case for Galaxy Note 8
Costing just $9.99, the LK wallet case is the cheapest option on our list. But you're getting a lot of bang for the buck, as the case features multiple inner pockets, a magnetic enclosure, kickstand mode, and a wrist strap. Available in four color versions (black, brown, purple, and rose gold), the LK wallet case for Samsung Galaxy Note 8 is mainly made out of synthetic leather - but that's normal at this price point.
Samsung LED Wallet Case for Galaxy Note 8
Yup, Samsung has its own wallet case for the Galaxy Note 8 - a well-designed one that's called "LED Wallet Case" and offers functionality you won't find on other manufacturers' products. The case's front cover features LED lights that can notify you of incoming calls or messages, while also being able to show the current time - all while the Note 8 remains inside the case. On the downside, you're getting only 1 interior pocket for cards or cash, and there is no kickstand mode.
VRS Genuine Leather Diary case for Galaxy Note 8
Exuding elegance, the VRS Genuine Leather Diary case is obviously made out of real leather, although there's also some plastic inside (to protect the edges of the Note 8, and to hold the phone in place). The case offers plenty of space to store your cards and cash, and is available in three pleasant colors - navy, brown, and wine red (1 year warranty included for each). Unfortunately, there's no kickstand mode here, either.