Best Buy prices the Sony Ericsson Xperia X10 for AT&T at $1 for today only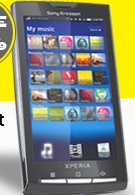 Well, it looks like the
rumors
were true as Best Buy is currently selling the Sony Ericsson Xperia X10 for AT&T at the easy to swallow price of $1 with your signature on a 2-year agreement. Now this limited time offer is only going to be available today and can be purchased through their web site. Unfortunately, the deal doesn't apply to the in-store purchase of the handset, but is also available to customers who have a qualified upgrade available to them.
Additionally, the consumer electronics giant is throwing in free shipping into the mix – making this purchase almost a no brainer. Sure it's got Android 1.6 on board for right now, but there is a strong likelihood that it'll see the fine tunes of
Android 2.1 Eclair some time in the near future
. Plus, you can watch all of the
funny videos
showing off the power of the Sony Ericsson Xperia X10 over some of the other existing high-end smartphones on the market.
Sony Ericsson Xperia X10a Specifications
|
Review
source:
Best Buy