Sony Ericsson Xperia X10a Review
14

Introduction:
Approximately over six months ago, AT&T's Android lineup was barren except for the sole offering of the
Motorola BACKFLIP
– something that was regarded as being a travesty when you think about all the high-end offerings available up until that point. Some time around that very moment, the
Sony Ericsson Xperia X10
was just beginning to roll out across Europe where it garnered the respect and adulation from many since it was hailed as a true high-end offering worth drooling over. Boasting some impressive specs such as a larger than normal sized 4" display, 1GHz Snapdragon processor, and a totally unique looking customized Android interface, the smartphone had the recipes required for success. Fast forward to the present, the US market is now just witnessing the launch of the Xperia X10a on AT&T's network – but without a doubt, its allure might be tarnished due to a rash of high profiled Android releases. Already facing some stiff competition from all sides, does the
Sony Ericsson Xperia X10a
still pack enough appeal to substantially differentiate itself enough in a market where time is of the essence?
The package contains:
Sony Ericsson Xperia X10a
microUSB Cable
Wall Charger
3.5mm headset adapter
Stereo Headset
Quickstart Guide
Design:
Since we're once again presented with an almost identical replica to the original Xperia X10, aside from its color scheme of course, its design still stands to be favorable amongst the recent tide of premier Android handsets. Although it's constructed out of piano black plastic, it still radiates a satisfyingly durable exterior that won't make you question its longevity – plus the chrome accents and soft touch coating naturally add to its general appeal. Utilizing some hard lines with some angled cutouts, it maintains a lovely design that seemingly presents itself as a fitting high-end device. After picking up massive handsets like the
HTC EVO 4G
and
Motorola DROID X
, the overall size of the Xperia X10a hits that sweet spot which makes it feel rather comfortable to hold without being seen as bulky. Thanks to the plastic casing, it makes for one fairly light weight (4.76 oz) device that once again hits that perfect balance. All things considered, we really can't find too many faults with the handset's design.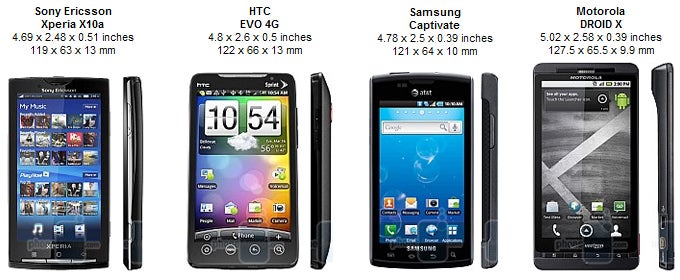 You can compare the Sony Ericsson Xperia X10a with many other phones using our
Size Visualization Tool
.
After tasting the HTC EVO 4G's massive 4.3" display and the Super AMOLED display of the
Samsung Galaxy S
, the
4" TFT display
of the Xperia X10a doesn't have the influential charm it once had prior to those devices launching. Thankfully though, it's still respectable seeing that it has a resolution of 480 x 854 pixels – making the tiniest of text still visibly clear with no distortions whatsoever. Conversely, we can't say anything good about its color reproduction since it has support for 65k colors. In addition, its single toned preloaded wallpapers easily show off the handset's inability to showcase a rainbow of colors simultaneously. Although viewing the display from extreme angles make it washed out looking, setting the brightness level all the way to its maximum will help maintain an adequate visibility when using it outdoors and in direct sunlight.
For some odd reason, it feels so refreshing to see a high-end handset resorting to employ physical
buttons
as opposed to the touch sensitive ones dominating most of today's modern sets. The three distinct chrome buttons below the touchscreen are raised enough from the surrounding area to be distinguishable to the finger – making them relatively easy to press since they offer some modest feedback. The icons indicating what are the physical buttons don't light up, so you'll have to rely on the two LED lights that power on when they are pressed to gauge which one is which.
On the right edge, you'll find the volume rocker and two-level shutter key – both of which are decently sized and offer a subtle press. While on the top side of the phone, you'll be presented with the power button, 3.5mm headset jack, and microUSB which is hidden underneath the plastic flap. For those who like to tether their phone to them, you can take advantage of the lanyard port that's located on the bottom edge. Switching over to the rear, you'll find the 8.1-megapixel auto-focus camera with LED flash with a small cutout to the right of it for the speaker. Yanking off the back cover will give you access to the SIM card slot, battery, and microSD card slot.
Sony Ericsson Xperia X10a 360 Degrees View: