Best Apple iPad Air 2 cases
3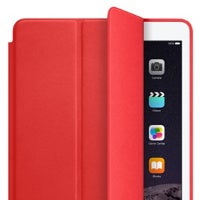 The Apple iPad Air 2 comes with one most notable improvement: it's thinner and lighter, thin enough to be worthy of the title 'the world's slimmest tablet'. It's also a thing of beauty with its aluminum body, gold-colored version, and exquisite design, but how do you protect such a beauty from damage?
The obvious answer is a case that would engulf both the front and back for an additional layer of protection to keep your iPad Air 2 safe and sound. This way you will be able not only to enjoy using your tablet longer and have it protected from accidental falls (and intentional ones, if you have children), but also have it in mint condition, ready to sell it at the best price when time comes to upgrade.
At the same time, a case could do more than just protect. Some cases add beauty and character of their own, others - like keyboard cases - add functionality. We have looked at all these different types of cases for the iPad Air 2 and picked some favorite ones. Take a look at our selection right below.