This Tuesday, T-Mobile is randomly handing out $500 gift cards to subscribers, and more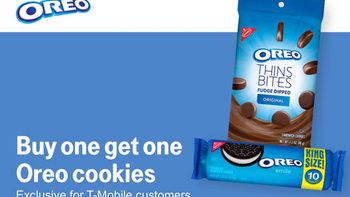 T-Mobile is also continuing a sweepstakes that it started last week. T-Mobile subscribers, and even non-subscribers, have until 11:59pm Monday, October 29th to enter. Subscribers can submit their entry through the T-Mobile Tuesdays app and non subscribers need to go to amoe.t-mobiletuesdays.com. One lucky winner will receive $1,440 in credit with Atom Tickets, allowing him or her to receive eight standard movie tickets a month for one year. In addition, the winner will receive a check in the amount of $617 that can be used for taxes or anything else at the winner's discretion.
Meanwhile, this Tuesday, T-Mobile is giving away:
Last minute concert seats in sold out sections from Live Nation.
Discount hotel rooms from HotelStorm.
$10 off sports tickets from fanxchange.
$4 movie tickets to Bohemian Rhapsody from Atom Tickets.
$2.50 off 12 to 15.8 ounce Muscle Milk.
BOGO on Oreo cookies.
The above giveaways and discounts can be obtained through the T-Mobile Tuesdays app.