Asus planning to announce the PadFone Infinity on September 17th
5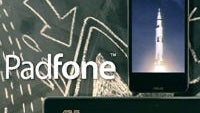 The Asus PadFone has always been a somewhat odd device, but interestingly one that has caught on in a few regions. The device is a strange one because it is essentially a 10-inch tablet screen, with a companion smartphone that docks to the screen to make a functioning tablet. The PadFone has already lasted for two iterations, and now Asus is getting ready to announce the third iteration: the PadFone Infinity.
We don't really know anything about the PadFone Infinity, but it is expected to hold close to the plans for the device that we
saw
back at MWC in February, with a bit of a refresh to the original proposed specs. It is expected to look basically the same as the current PadFone 2 based on
leaked pics
we've seen, but it will have beefed up internals. The smartphone component is rumored to be a 5-inch 1080p device that it should be packing a Snapdragon 800, 2GB of RAM, a 13MP camera, and Android 4.2.
The tablet dock is expected to be a 10-inch display with a resolution of 1920x1200, and a 5000mAh battery to augment the 2400mAh battery found in the handset. Of course, all of these specs are in the realm of rumor now, because it has been such a long time since Asus originally showed off the device.
We'll find out more soon enough, because Asus is planning to give us all the details on the new device at an event in Taipei next Tuesday, September 17th.