Asus reveals powerful specs for upcoming Zenfone 6 flagship, including massive battery
2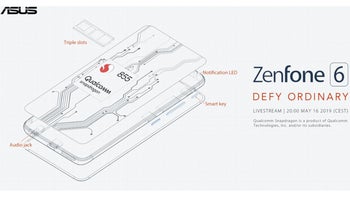 The
ZenFone 6
is one of the latecomers in the flagship territory this year, along with the OnePlus 7, but that doesn't mean Asus won't do everything in its power to turn it into a market success. We know
since February
that Asus plans to launch its next flagship smartphone, the ZenFone 6 on May 16, but details about its specs were a bit scarce until recently.
Despite the fact that it will be unveiled just two days after the
OnePlus 7
, Asus ZenFone 6 will probably be of interest to many customers looking for a not so expensive (hopefully) flagship. To raise the hype around the ZenFone 6, Asus revealed a handful of specs that will be part of the device.
First off, Asus ZenFone 6 will be equipped with a powerful Qualcomm Snapdragon 855 processor, which makes perfect sense since this is a top-of-the-line device. The
image published
by Asus also reveals the smartphone will include an audio jack port, a smart key, notification LED and triple slots, which means that it will come with dual-SIM support among other things.
Now, as
AndroidPure
points out, Marcel Campos, Asus Head of Global Marketing Operations, stated in a rather unique way, using Morse code, that the ZenFone 6 will pack a dual camera (48MP+13MP) and a massive 5,000 mAh battery.
Besides what Asus revealed recently, we also know the ZenFone 6 will boast a notchless display, either 6GB or 8GB RAM, and 128GB/256GB internal memory. Asus may also launch a very expensive 12GB RAM/512GB storage variant, but that might only be available in select markets.