Brand new Asus ZenFone 4 is already slightly cheaper than at launch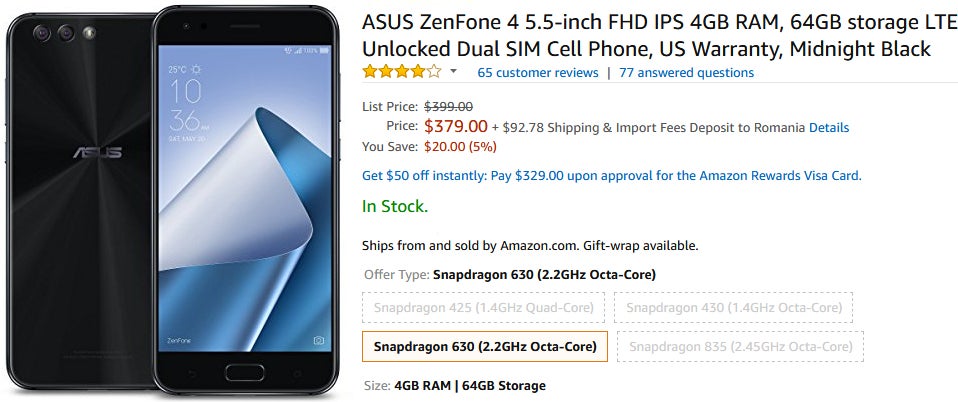 Officially launched in the US at the end of October, theAsus ZenFone 4 is a pretty nice mid-range smartphone that's sold unlocked andcan be used on carriers like T-Mobile and AT&T (but not on Verizon and Sprint).
Initially sold for $399, the ZenFone 4 is already cheaperthan at launch, as retailers Amazon and B&H are currently offering it for $379.B&H says this offer ends on December 2 at 11:59 pm ET, while Amazon doesn'tsay when (or if) its offer will end.
For $379, you're getting a handset made out of aluminum andglass, with an interesting "micro-etched, concentric-circle" patternon the back. The new Asus phone sports a 5.5-inch 1080p display, being poweredby an octa-core Snapdragon 630 CPU aided by 4 GB of RAM. Other features includea dual, 120-degree wide-angle rear camera with optical and electronic imagestabilization, dual speakers, 64 GB of storage space, and a 3300 mAh batterywith fast charging. The ZenFone 4 currently runs Android 7.1 Nougat, but itwill be updated to Android Oreo at some point.
In case you're wondering, the more powerful Asus ZenFone 4Pro (which features a Snapdragon 835 processor) is currently not included in anyoffer, so it's still sold for $599 - its launch price. Anyway, if you think the regular ZenFone4 is good enough, and you're happy with its new price, you can buy it rightnow via the source links below.