Asus PadFone X hands-on
3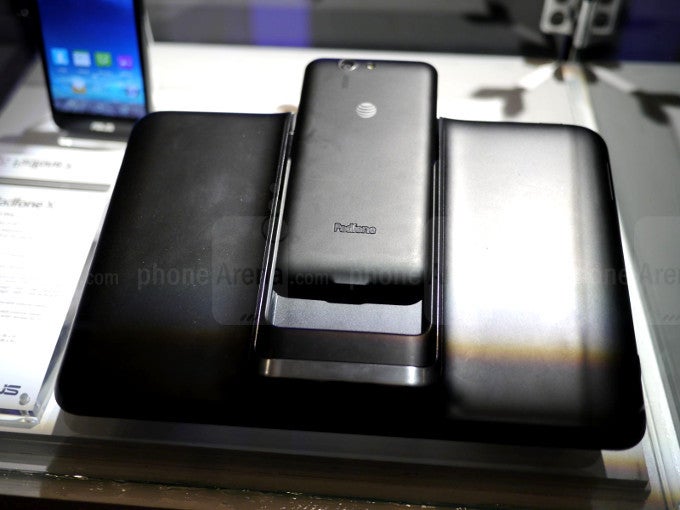 AT&T announced today that it will be carrying the new
Asus PadFone X
smartphone/tablet dock combo, and we put the contraption through its paces at CES 2014.
Design
Unlike the
PadFone Infinity
, Asus has opted for a smaller, 9" tablet dock this time around, while the smartphone diagonal stays with the same 5", 1080p panel. Both feel solid, though come off as a bit chubby and hefty, especially when the phone is latched onto the tablet dock. The soft touch plastic on the back means that the units won't feel slippery in your hands, yet it's not the most premium such material we've handled. The general shape of the phone also isn't the most exciting, though the brushed metal frame on the sides helps with the visual appearance.
Display
Both devices feature a Full HD screen, which seems to be as good as any such display we've seen, both on the smartphone, and on the 9-inch tablet half. Colors are well presented, and the screens appear sufficiently bright, with very good viewing angles, indicating they are of the IPS variety.
Interface
The PadFone X runs Android 4.4 KitKat with an Asus UI overlay on top. It allows you to pick up on the tablet right where you left off on the phone, and vice versa. For instance, if you have been watching a movie on the small 5" display on the subway, getting home and docking the phone in the tablet part will seamlessly continue the watching on the larger tablet screen.
Processor and memory
Asus didn't exactly spell out the silicon specs, but we'd wager to confirm a Snapdragon 800 processor ticking inside the phone, with the obligatory for flagships these days 2 GB of RAM and at least 16 GB of internal memory. The interface ran smooth, and transition from phone to tablet mode is uninterrupted.
Expectations
There isn't a full disclosure on all details surrounding the PadFone X combo on behalf of both AT&T or Asus, but we liked what we saw in the third iteration of the PadFone concept. The design is comparatively smooth and being picked up by a major US carrier sounds like recipe for enhanced popularity. Moreover, the phone/tablet dock device stands well to the current flagships, and will certainly run you less than if you buy those two devices separately, which is the whole point behind the concept.