Asphalt 6: Adrenaline out on the App Store
1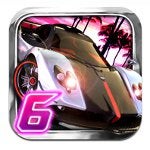 Yes, ladies and gents, Gameloft is right on time with its
holiday schedule
and Asphalt 6: Adrenaline was just released hours ago on the App Store. The adrenaline-pumping racer comes at the hefty
$6.99
for the iPhone or iPod touch
. The
iPad version
is priced just the same, but it boasts redefined HD graphics. Each of the versions packs the whopping 500+ MB of data, almost twice as much as the previous version, so let's see what's new and hot on the asphalt streets of the latest racing game.
To start off, do we really need tointroduce the Asphalt series? It is probably themost popular racing game for phones, but the sixth version iseven better. A total of 42 carsand bikes will have you pushing the pedal to the metal.Ferrari, Lamborghini, Aston Martin, Ducati are some of the ridesyou will take out on the sunny palm streets of L.A.,metropolitan Tokyo and others. Online and local multiplayer are bothon board with support for up to 6 users.
To sweeten the cake, you can tune your vehicles to try to win
11 leagues and 55 events
. For the rest, check out the screenshots below and don't forget to share your opinion about Gameloft's latest Asphalt game.
source:
iTunes App Store
via
Redmond Pie