Archos outs four affordable dual SIM Androids in the Titanium series
4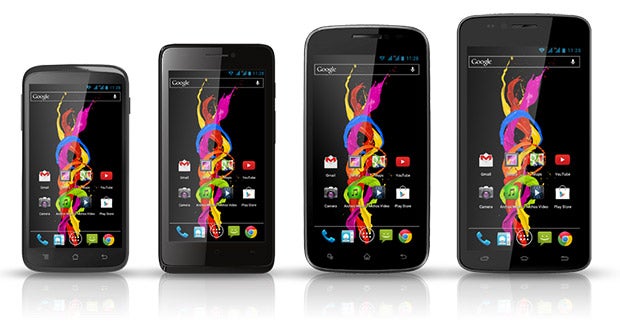 Archos has unveiled four dual SIM handsets in its affordable Titanium line, naming them after the screen size, 40, 45, 50 and 53, with screens and resolutions as follows - 4" (800 x 480 pixels), 4.5" (854 x 480), 5" (960 x 540) and 5.3" (854 x 480). that last one especially should be a sight to behold with that low pixel density.
All four are running Android Jelly Bean, stock from the looks of it, and have dual SIM slots that allow them to support both American and European/Asian networks, with up to 21 Mbps HSPA+ download speeds. The handsets are powered by 1.3 GHz dual-core MediaTek processors, have the lowly 512MB of RAM and 4 GB of storage, but there are misroSD slots for expansion.
We also get 5 MP rear cams and 0.3 MP front-facing shooters, all for rock bottom prices in the $100-$200 and change range, as you can see in the Archos comparison tablet below.
Feature Packed at an Affordable Price, ARCHOS Introduces New Titanium Line of Smartphones

Google Certified Titanium smartphones feature multi-touch displays, dual-core processors, dual SIM support, powerful battery life, HSPA+ and more

DENVER, Colo. – October 17, 2013 - ARCHOS, a pioneer in Android™ devices, partners with MediaTek to release the ARCHOS Titanium smartphone line, with four mid-range fully featured smartphones with affordable prices starting at 99€. Featuring a stylish, easy-grip and slim body design the ARCHOS Titanium smartphones include large high-quality screens with amazing viewing angles, dual sim support with HSPA+ speeds for complete carrier flexibility and 5 MP back cameras for capturing the perfect picture. Fully Google certified, the ARCHOS Titanium smartphone range run Android 4.2.2 Jelly Bean, include popular Google mobile applications and have complete access to the Google Play store.

Real smartphones for daily use, the ARCHOS Titanium Smartphones offer the best user experience with rich and vibrant colored screens and the best in technology. Users now have the flexibility for their phone to be for both personal and work thanks to Dual Sim support. These smartphones make daily life easy with access to more than a million apps via the Google Play store and powerful batteries to take further than just a single day of use.

"Our new Titanium smartphones make daily life easy by providing everything you need wrapped up in a powerful, feature rich phone package with a price that is hard to beat," says Loic Poirier, CEO of ARCHOS. "Thanks to our new partnership with MediaTek and their support, we are able to offer a range of unlocked phones at affordable prices without losing key features."

"MediaTek is delighted that Archos has chosen the MT6572 3G+ platform as the basis for its new Titanium range of smartphones," said Siegmund Redl, Vice President and General Manager Corporate Marketing, Europe, at MediaTek. "The MT6572 integrates into a single solution a powerful 3G+ dual-core processor with advanced Wi-Fi, GPS, Bluetooth and FM functionality. Combining this with support for 3D Graphics, HD capable video and MediaTek's Miravision display enhancement technology, the MT6572 offers an outstanding user experience on Archos' Titanium range of smartphones."

Each smartphone will include key features such as:

Dual-Core CPU's: The built-in Dual Core CPU make for a powerful smartphone that will maximize your social networking, web browsing, gaming and app experience
Dual SIM: Finally, a smartphone that allows the user ultimate flexibility with managing multiple providers simultaneously
5 Mega Pixels Back Camera: Each smartphone features a high resolution camera with auto focus and flash to capture every photo-worthy moment perfectly
3G Connectivity H+ (21 Mbps): Experience speedy downloads and faster web browsing no matter where you are
Micro SD slot: Enjoy a large storage capacity with the built-in micro SD slot and Google Drive 15 GB for free (cloud storage)
Long battery life: The longer battery life eliminates the need to charge your phone every day during normal use eliminating the need to carry a charger with you
Google certified: Provides users with access to all Google services including Google PlayTM, Google Mobile Services and more than one million apps
A-GPS : Users can get all European maps for free eliminating the need to buy an in-car GPS