Apple unveils App Store for the Chinese market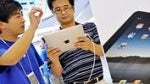 Apple
has just launched their new online store and App Store designed specifically for China. This is part of their expansion into what is now the largest mobile market in the world. Although e-commerce market is large, it is mostly conducted on a single website, and customers prefer to pay in cash.
In the online store, customers can now order their products for delivery. They previously had to pick their purchases up at one of the four
Apple retail locations
. Deliveries are still difficult in more remote areas, where infrastructure isn't ideal for commercial shipping. They post a warning on the website that more rural addresses might experience a delay.
They have also released their App Store for the Chinese market, allowing owners to more easily download software for their Apple devices. Even so, they still haven't resolved the dual-currency requirement. Customers must use a special dual-currency card in making App Store purchases.
Part of Apple's hesitation has been due to the rampant piracy of both software and hardware in China.
App developers
have been wary of the market, fearing that Chinese consumers wouldn't pay for their software. After impressive
sales in China
, Apple is convinced that further expansion is in their best interest.
They will also have 25 new retail stores by 2011. Apple previously depended on third-party retailers to sell their devices, but will now have a more physical presence in China.
source:
The Wall Street Journal