Apple to change its ebook pricing strategy, lower prices inbound
4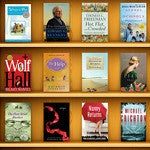 Ever since Apple got
accused of ebook price-fixing
, there's been some restlessness in the otherwise happy land of ebooks. And probably because Amazon continues to be the ultimate leader in this space, it seems that Apple is now looking to tweak its strategy a little.
Following recent settlements between the US Department of Justice and ebook publishers HarperCollins, Hachette and Simon & Schuster, due to accusations of price-fixing practices with Apple, it was found out that many HarperCollins titles are now being discounted at many retailers. Apple is also said to have taken advantage of the new pricing, seeing that the so-called "agency" model will no longer work for the publisher. This will allow Apple to discount those titles, making its prices closer to Amazon's. Of course, if Apple really wants to achieve comparable, or even better price tags compared to Amazon, it will have to make a compromise with its typically big profit margins.
Playing by Amazon's rules, which is often offering stuff with very low (or no) profit margins, will surely not appeal to Apple, but that's what it will have to do if it wants to close in on Amazon's leading position.
source:
Electronista