Apple to boost presence in India, could this hint the affordable iPhone is closer than ever?
34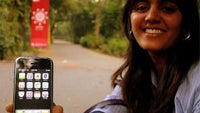 Apple plans to nearly triple its retail presence in India
to a whopping 200 by 2015, according to three of the company's dedicated franchises in the world's second most-populous nation.
The company has no official Apple Stores in India but instead it works with dedicated franchises there.
"After the success of iPhone, Apple has finally realised that India is a big market and needs separate focus,"
a Mumbai-based Apple franchise said.
The dedicated stores are saying that they have gotten Apple's encouragement to scale operations up. This will happen both through Apple Premium Resellers as well as multi-brand stores. What's interesting is that while Apple does not plan on opening its signature stores there, it is said to have contracted suppliers to outfit existing stores in a similar fashion with glass doors and panels.
We can't help but wonder, though, whether this news could not be a hint of that an
affordable iPhone is closer than ever
. India is a developing market after all and the premium price for Apple products might not be exactly popular to the masses (it certainly is popular to higher-paid Indians). What do you think?
source:
Times of India