Apple replaces Google for its own Maps app with 3D view and voice-guided navigation
53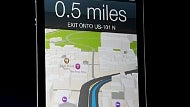 In the last weeks those rumors that
Apple is ready to ditch Google Maps from its devices
and replace it with its own mapping and navigational solution reached a crescendo, and they all turned out correct.
The new Maps app in iOS 6 has everything a modern mapping and navigational software should have, like millions of POIs and local business listings and
real- time traffic
and accident information.
The big news here is that now we have
turn-by-turn navigation
by just tapping a "Quick Route" button, or, since the new Maps app is integrated with Siri, you can ask it for directions or for the nearest gas station while driving, for example. And, of course, it is Siri that is giving you voice-guidance in the first place

The hotly rumored 3D mode is called
Flyover
, and lets you enjoy three-dimensional views of cities and places, and also a satellite view, just like you would with Google Maps. The level of details for the buildings is pretty high up there, however, and looking even better on the Resolutionary new iPad display where it was demoed, but it should look no less slick on the iPhone's Retina as well. Flyover and turn-by-turn nav will work only with the iPhone 4S and the iPad 2 and above, though.