Apple planning to chuck Google Maps in iOS 6, use homebrew backend and 3D mapping instead
55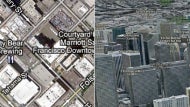 Not that it comes as a big surprise, and
we made a whole article on it months ago
, but Apple is reportedly planning to divorce Google Maps for its iOS 6 mapping and navigational needs, and use an in-house solution instead. Nokia has it, Google has it, now it's time for those
C3 Technologies, Placebase and Poly9 acquisitions
Apple made to start paying off.
As you can guess with the above mentioned companies that Cupertino gobbled, the new mapping solution, which will allegedly be called just Maps, will be heavy on the 3D side of things, and the backend will be now entirely supplied by Apple. The fruit company is already using
OpenStreetMap in iPhoto
, and now it might be signing the divorce papers for its main mapping solution as well.
The 3D mode will eventually be toggled on and off, and is based on C3's usage of declassified missile target algorithms. You can have a look at the 3D map of Oslo the company did in the video below, and here is its own explanation how:
C3 Technologies is the leading provider of 3D mapping solutions, offering photo-realistic models of the world for search, navigation and geographic information systems. Since 2007 when it was spun out of the aerospace and defense company Saab AB, venture-backed C3 has redefined mapping by applying previously classified image processing technology to the development of 3D maps as a platform for new social and commercial applications. The Sweden-based company's automated software and advanced algorithms enable C3 to rapidly assemble extremely precise 3D models, and seamlessly integrate them with traditional 2D maps, satellite images, street level photography and user generated images, that together are forever changing how people use maps and explore the world.
Apple's own Maps would be a pretty headline feature for iOS, and one more step away from Google's services for Cupertino, but we wonder about voice-guided navigation and such, and whether Apple might throw in something like that to compete with the 3rd party navigation solutions in the App Store.
WWDC
is fast approaching and we should know more just in a month.