Apple is now the number two brand in Asia after jumping over Sony; Korea's Samsung is on top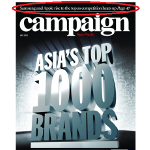 "Samsung's sweep of the top spot can be attributed to the brand's dedication to product innovation within a wide range of consumer electronics. The brand's focus on high visibility marketing and advertising, as well as its commitment to developing brand presence in both new and mature markets has helped to give the brand a boost."-Jolene Otremba, reports editor for Campaign Asia-Pacific
Cupertino based Apple
jumped from the 6th to the 2nd most popular brand in Asia
. In making the jump, Apple leaped over Japan's Sony to finish behind South Korea's Samsung in the survey. The annual report was conducted by
Campaign Asia-Pacific
with help from
Nielsen
. This is the 9th year that the survey of brand names was done, which was compiled by speaking to 4,800 residents in the area. After Samsung, Apple and Sony, Panasonic grabbed fifth place. The only non electronics company in the top 5 was fourth place Nestle.
The shift in the survey over the last year indicates the
growing importance of smartphones and tablets in the region
. Sony was on top of the pack last year and while the company does produce handsets, it is not associated with the devices the way that both Samsung and Apple are. Breaking down the results by country, Samsung was on top in Korea (natch), Hong Kong, Malaysia, Thailand and Indonesia. Meanwhile, Asia has been an area of increasing importance for Apple with sales of the Apple iPhone in the region more than doubling year-over-year during the March quarter.
source: CampaignAsia-Pacific via
AppleInsider
SINGAPORE, July 5, 2012 /PRNewswire-Asia/ -- Samsung has claimed the number one spot in the Campaign Asia-Pacific 2012 Asia's Top 1000 Brands report, the biggest and most influential survey of brands which consumers most value in the region.

Other brands to appear in the top 5 are Apple, Sony, Nestle, and Panasonic, respectively. Apple and Nestle were this year's new entries into the top five, moving up significantly -- four and five places respectively -- in their rankings.

"Samsung's sweep of the top spot can be attributed to the brand's dedication to product innovation within a wide range of consumer electronics," said Jolene Otremba, Reports Editor at Campaign Asia-Pacific. "The brand's focus on high visibility marketing and advertising, as well as its commitment to developing brand presence in both new and mature markets has helped to give the brand a boost."

In its 9th year running, the 2012 report is based on a survey conducted by Campaign Asia-Pacific and the global information and insights provider, Nielsen targeting consumers in 12 key regional markets across Asia-Pacific: Australia, mainland China, Hong Kong, India, Indonesia, Japan, Malaysia, Singapore, South Korea, Taiwan, Thailand and Vietnam.

Across the countries/regions, Samsung claimed top spot in South Korea, Hong Kong, Malaysia, Thailand and Indonesia, while it sat within the top five in five other countries. Mostly, the top three spots across all the countries/regions were dominated by consumer electronic brands, with the exceptions of mainland China which included Nestle in second place and Chanel in third; India placed Nestle third; Taiwan had Chanel in third place; Indonesia had Nestle second; and Nestle took the top spot in Vietnam.

As one of the region's most anticipated and bespoke top of mind brand study, the survey covered 14 major products and services categories across a total of 73 sub-categories. The ranking of the brands were ascertained based on responses to questions that asked the respondent to name the best brand that comes to their mind in a category. The results are then weighted to reflect the age, gender and monthly household income representative of the general population.

Aside from identifying the top brands, the study also features experts' analysis, which helped identify key trends that are affecting brands in the region, and in individual markets.

"Findings from this year show that luxury retail brands are moving up the rankings faster than ever, indicating the region's increasing affluence and rise in disposable income," Otremba said. Notable climbers in the luxury category include Louis Vuitton (moving up 84 spots), Calvin Klein (moving up 91 spots), Armani (moving up 94 spots), Burberry (moving up 263 spots), and Prada (moving up 271 spots).

"Another trend is that the region's growing wealth, and the aggressive push of these brands into Asia has also led to global brands being more top of mind amongst Asian consumers," Otremba added. Survey results a year ago showed local brands accumulating a healthy share of the rankings. However, this year, many global brands are giving the local brands a run for their money.

In fact, the study revealed that even Chinese and Indian brands seem to be facing challenges in gaining consumer recognition within their home markets. While last year's survey results placed eight Chinese brands within the top 20 brands ranked within China, this year's results had only three local brands. In India too, only three local brands made it into the top 20.

However, there are certain markets where consumer support for homegrown brands continues to be evident, such as in South Korea and Japan, where brands such as Samsung, LG, Sony, Panasonic, Lotte and Meiji continue to enjoy their dominance "But these brands are also global brands in their own right," Otremba said.

Looking at the individual categories revealed the sustained power of recall for familiar global brands, with section winners including Johnnie Walker (spirits); Heineken (beer); Visa (credit card); BMW (car); Tiffany and Co (jewellery); Rolex (watch); Louis Vuitton (luxury fashion retail); Nike (sportswear); Starbucks (coffee shop); and Hilton (hotel).

PR Newswire is the Global News Distribution Sponsor of Asia's Top 1000 Brands Report, produced by Campaign Asia-Pacific, a product of Haymarket Media Group.