Apple investigating reports of poor Bluetooth audio quality with the iPhone SE
99+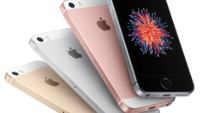 Originally thought to be selling poorly
, the latest word is that the
Apple iPhone SE
is
actually selling well
. It is apparently hard to find the iPhone SE on carrier's shelves, and ordering from Apple.com means
waiting nearly two weeks for the phone to be shipped
in certain cases. The 16GB version is priced at $399, with the 64GB model offered for $499.
According to complaints posted at Apple's support communities website, the iPhone SE does have a problem with the audio quality heard over Bluetooth supported accessories. Apparently, this issue affects both Bluetooth headsets and earpieces alike. The problem can also be heard when an iPhone SE is paired with automobile speakers using Bluetooth.
The audio on affected iPhone SE models is sounding robotic and distorted on phone calls, GPS voice navigation and with FaceTime video calls; streaming music is not affected. Reportedly, Apple's engineering team is aware of the issue, and is working to resolve it. A similar problem happened in October 2014 to Bluetooth connected car audio systems used by iPhone users following the update to iOS 8. The problem was fixed in iOS 8.1.
"I actually had to return my SE back to Verizon because my Bluetooth calls reception quality was terrible. Playing music or YouTube videos through the Bluetooth was excellent but when it came to phone calls, the sound was constantly cutting in and out and sounded "scratchy" and distorted. Never had this issue with my previous 6S or my work-issued Android phone. Tried my SE in a different vehicle and got the same results. I've unpaired and repaired and I even restored my SE and set up up as a new device but nothing has worked."

"I have been working with a high level support person who has assured me he is working directly with engineering. Apple has very much become engaged in this issue. They have had me do extensive testing of various conditions in order to document and troubleshoot. Further, there is an internal "Issue" board and tracking system for Apple support and this BT issue is on the top of the list. It was conveyed to me that this has become a very real issue internally and resources are now committed to its resolution."-Apple iPhone SE users
source:
AppleSupport
via
MacRumors