Apple intros a smaller dock connector and calls it Lightning, but fret not, there will be an adapter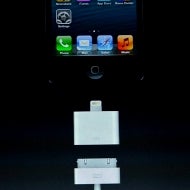 The cable connector is reversible, with pins on both sides, so it doesn't really matter which side you plug it in if you are in a hurry, which is svelte. The reason for the move, except to save space, Apple quoted to be that much of the things that we used to do with cables, are now done wirelessly.
As for the billions of accessories made for the old connector, there will be a 30-pin-to-8-pin adapter to soothe your transition pains, and can you guess how Apple called the connector (yes, there is a name for it). Why, Lightning, of course.
via
TheVerge