Apple iPhone XR first weekend sales totaled 9 million units, analyst claims
16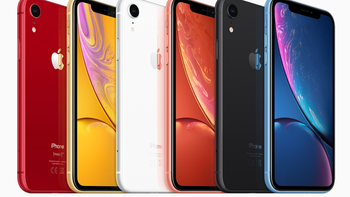 In his report last week, analyst Ming-Chi Kuo admitted that pre-order demand for the iPhone XR
was weaker
than the interest seen in September for the iPhone XS and XS Max. But according to
Rosenblatt Securities' Jun Zhang
these "weak pre-orders" actually translated into sales of 9 million units over the course of the iPhone XR's first weekend.
This number may seem impressive to many but Zhang was expecting Apple to sell 10 million units instead. Because of this, he has decided to reduce his production estimates for the quarter from 90 million to 88 million. Moreover, he now expects Apple to slow iPhone production by 3 million units in both November and December. Of this number, 2 million each month will be iPhone XR units while the remaining million will be
iPhone XS and XS Max
units.
Due to the higher cost of the iPhone XS series and the iPhone XR, the analyst in question does see an increase in Apple's average selling price by between eight and 10 percent during the quarter ending December 31, 2018. This, along with the
next-generation iPad Pros
and updated MacBooks could help Apple generate as much as $91.2 billion during the period, which would be an all-time record for the company.
Jun Zhang is considered to be one of the less optimistic analysts when it comes to
Apple
. But despite forecasting sales of just 77 million units for the quarter – Ming-Chi Kuo expects 83 million units – he does appear to be in agreement that the final three months of 2018 could be massive for Apple.