Apple iPhone 7 Pro renders show us what might be Apple's handset for the enterprise
30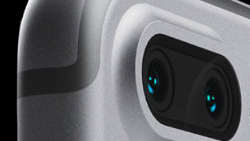 The other day, we showed you
renders of the Apple iPhone 7 and Apple iPhone 7 Pro
produced by Martin Hajek. As we pointed out, Hajek used rumored specs to create the images that we passed along to you. At the time, we noticed that Hajek called the next iPhone phablet the Apple iPhone 7 Pro instead of the
Apple iPhone 7 Plus
. Now we know why.
Hajek has produced a new render for the Apple iPhone 7 Pro; if produced by Apple, this device would have much in common with the
Apple iPad Pro
tablet, including a Smart Connector magnetic port and support for the Apple Pencil. With the Smart Connector, iPhone 7 Pro owners could have a physical QWERTY keyboard at their beck and call.
Now here is the part you don't want to hear. Word out of China is that an iPhone 7 Pro would be priced above $1200. If that is the case, we would expect that Apple would still offer an
Apple iPhone 7 Plus
. The iPhone Pro, like the Apple iPad Pro, would be aimed at the enterprise and the iPhone Plus would remain the version of the phablet for consumers.
via
Mobipicker