Apple iPad Pro: all the official images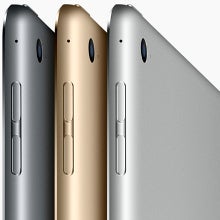 Apple finally announced its answer to those sleek convertibles that the Wintel world has been able to churn out with the newest fanless Core M chipsets, and the touch-optimized Windows 10. The new
iPad Pro
is the largest tablet that Apple has ever made, has the price to match, at $799 base, and the specs to show for it, with an ultra high-res display, blazing chipset, and software optimized for big-screen productivity... or creativity with the accompanying stylus and keyboard accessories.
As far as the design language goes, the
iPad Pro
follows the general iPad outlines, but, naturally, in a much larger format. It has a premium build, and plenty of ports and speakers all around. Still, it is a brand new iDevice from Apple, unlike what we are used to so far, so if you want to feast your eyes on the upcoming iPad Pro slate juggernaut, take a look at all of its official images that we've rounded up for you below.