Apple iPad Pro Review
99+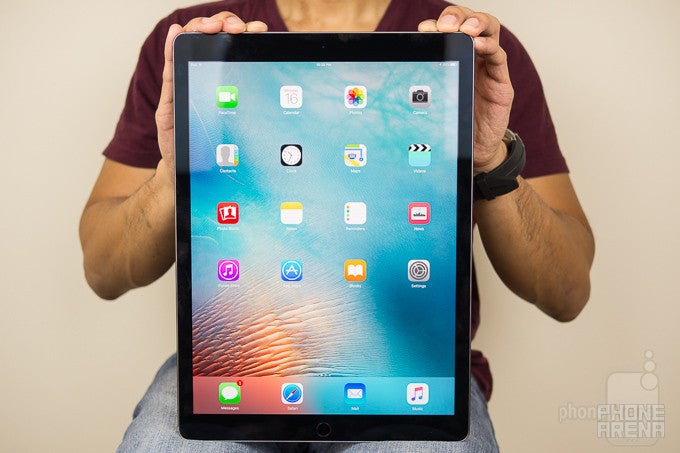 Update

: You can now read our iPad mini 4 review!

Introduction
In the world of tablets, the iPad still stands at the top – unrivaled since its inception, with no equal capable of relinquishing its control of the market. When you have such an influential product, it begs the question of how you can innovate it further to broaden its appeal to consumers.
Enter the
iPad Pro
. Simply put, this is Apple's biggest, most capable iPad yet – a compelling mobile computing solution that brings the tablet experience to a new dimension with little impact on portability, while also sprinkling on qualities that can potentially make it a useful instrument in the hands of creative, artistic individuals. And yes, it is shaping up as a powerful, versatile piece of hardware, even though it is hard to see it as a rival to a notebook or a hybrid computer. After all, the iPad Pro runs iOS 9, not a full-blown desktop operating system.
By and large, the tablet market has been declining over the last couple of years, but Apple is hoping to reinvigorate interest. Can an even larger iPad be enough to make that happen?
The package contains:
iPad Pro
Lightning cable
Wall charger
Getting started guide
Apple decals
Design
Whoa, it's a really big iPad! Premium built, as expected.
Whoa, the first thing to come to mind checking out the iPad Pro is that it's humongous! We've seen our fair share of over-sized tablets before, so we're not particularly shocked by this, but either way, its sheer size is hard to overlook. You might say that its size is almost obnoxious for a tablet; however, it's what gives the device that much-needed real estate; it is what makes this new iPad a mobile computing device worthy of a "Pro" in its name. Stacked up against an
iPad Air 2
, the iPad Pro stands like a monolith, offering a whopping 78% more screen area.
Speaking of the iPad Pro's size, we must mention two devices of similar purpose and identical caliber – the
Samsung Galaxy NotePRO 12.2
and the
Microsoft Surface Pro 4
. Compared to these two, Apple's offering is both thinner and lighter even though it offers a bigger screen.
For the iPad Pro, Apple has stuck to its usual recipe: the tablet shares the premium design and solid build quality the iPad line is known for. That consists of a svelte, 6.9mm-thin aluminum unibody that slowly slopes outwards where it meets the front glass panel with a chamfered, beveled edge. While it feels exceptionally well-built, much like the rest of Apple's portfolio, it's also pretty lightweight at only 1.57 pounds (712 grams).
Holding the iPad Pro for the first time is an odd adventure, mainly because of its immense size. Despite that, we have to admit that it's quite comfortable, factoring its equally distributed weight. There's even enough bezel around the display for our hands to comfortably rest without interfering with the touchscreen's operation.
Even though the design isn't original per se, this larger-sized iPad still exhibits the design characteristics of a tablet first and foremost – and that, folks, makes it still far more portable than any laptop or ultrabook. Apple's tried-and-true design recipe doesn't change here a bit with the new iPad Pro, but it doesn't need to because it's a signature design that has proven itself time after time.
Anyone familiar with the iPad Air 2 line will be also familiar with the layout of the iPad Pro, as its buttons and ports are situated in the same locations. Therefore, it means we have the power button and 3.5mm headset jack situated along the top edge, the volume controls along the right edge, and the Lightning connection on the bottom.
However, there are two changes worth noting. Firstly, there are now four speakers strategically placed along the edges of the tablet – two above the display, and two below it. The other new addition are the three pin connectors along the left side of the tablet that make up its Smart Connector, which is used to connect the iPad Pro to the optional Smart Keyboard.
This wouldn't be a modern iPad without Apple's Touch ID sensor integrated into its home button. As expected, it's pretty accurate and responsive when it comes to unlocking the tablet with a scan of our finger, but it's clearly not as lickety-split as its implementation in the new iPhones.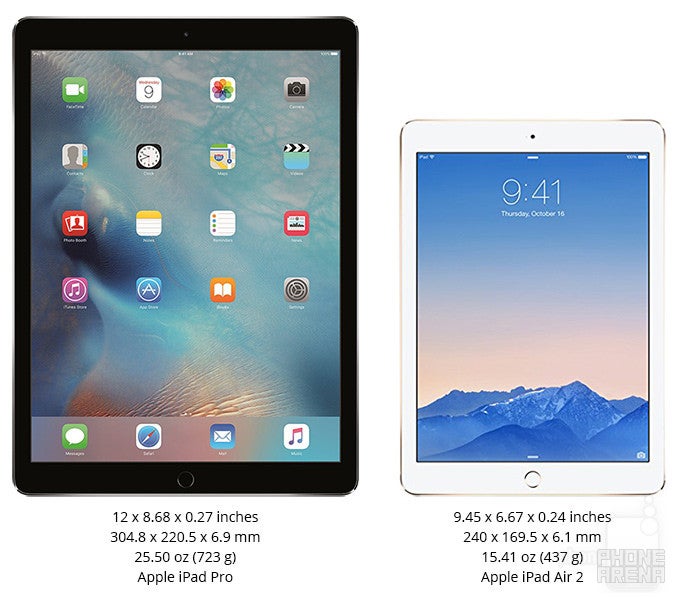 Display
The vast real estate takes getting used to, and the display's qualities aren't top-notch.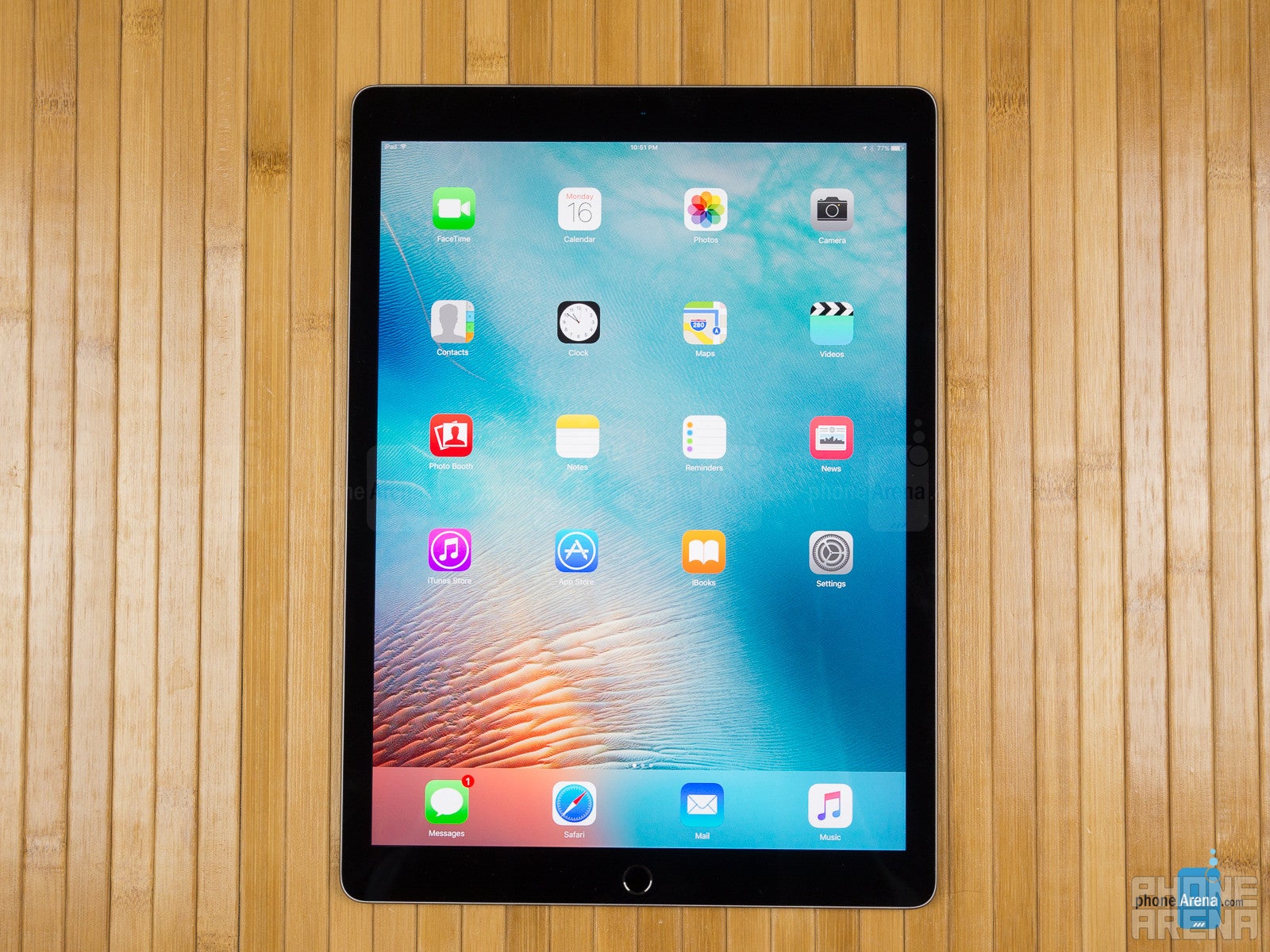 Much of the iPad Pro's appeal is attributed to the vast display it's blessed with: a 12.9-inch IPS screen with a resolution of 2048 x 2732 pixels, which Apple calls its "most advanced" Retina Display yet. With 78% more display area than an iPad Air 2, it boasts a staggering 5.6 million pixels. This equates to a pixel density of 265 ppi – identical to that of an iPad Air 2's display. That might not sound all that phenomenal, but in reality, the screen looks pretty detailed, especially as we're holding it from a normal distance. Text in the web browser, in particular, has good definition and crispness, allowing our eyes to comfortably read it.
Apple's products are renowned for their high-quality characteristics, and the iPad Pro surely follows suit with its display. Benchmarks aside, the Retina Display is delightful sight to behold with its clarity, wide viewing angles, and pleasant glow. Colors appear extremely natural in tone, realistic and true-to-life in fact, which is made more evident in its accuracy in the sRGB color spectrum chart. However, there are some aspects that are inferior in comparison to what Apple is known for – the color temperature is rather cold at 7400K and the gamma at 1.87 is inaccurate. Don't get us wrong, it's still good-looking and easy on the eyes, but is not as accurate as we expected it to be. In addition, trying to view it outdoors comes with some challenges – it isn't the brightest screen out there, with a maximum output of 379 nits.
We're definitely not as astounded this time around with the package, with the exception of its larger size, but it'll be more interesting to see how Apple takes advantage of the added real estate bestowed upon this tablet. That, by and large, is arguably the utmost important factor in giving it credibility.
Display measurements and quality
Recommended Stories