Apple iPad Plus production reportedly delayed until September
17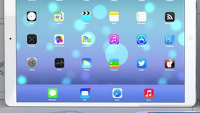 The Apple iPad Plus, the large 12.9-inch tablet allegedly being worked on by Apple, has been delayed according to a report published on Wednesday. The delay is said to be caused by Apple's inability to obtain enough screens to produce the tablet. Today's report says that the large-screened slate won't go into production until September. Original plans called for Apple to start mass producing the tablet this month. The source of this information is said to be an anonymous tipster who is familiar with Apple's plans.
Last month, alleged specs of the iPad Plus leaked. The tablet is expected to feature a 12.9-inch display with 2K resolution. The tablet is believed to be 7mm thin and weigh in at 700 grams. An 11,000 mAh battery is rumored to be inside.
Apple is holding an event on March 9th
at which time the tech titan is expected to reveal the latest information about the Apple Watch, including a launch date. Prior to today's report, there had been some hope that Apple might use the event to pass along some information about the large-screen slate. But if this report is legit, Apple might wait before making this product official.
source:
Reuters