Apple iPad 2 shipment dates now stand at 2 to 3 weeks out
5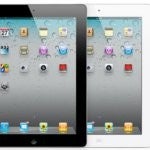 If you haven't done so already, you might be in for an unexpected surprise if you happen to plan on ordering an iPad 2 through Apple's web site.
After letting the flood gates open to online orders earlier today, the shipment dates for the Apple iPad 2 have jumped from their
original 3 to 5 days
, all the way to the
staggering 2-3 shipment dates
we're presented with right now. Naturally, that's definitely a heft toll to wait around to experience the latest iPad model, but then again, there are a host of stores today that are ready to possibly fill that void.
This time around, it 's quite evident that Apple is focusing on retail store sales as opposed to online orders – even more when Apple decided to forgo the customary pre-order process with this one.
So if you're truly adamant in picking up an iPad 2 and just can't wait around at least 2 to 3 weeks, then we'd suggest checking out some of the local vendors who will partake in all the festivities today – to guarantee yourself one for today of course.
source:
Apple
via
SlashGear