Apple edges Samsung to lead smartphone producers in global market share
84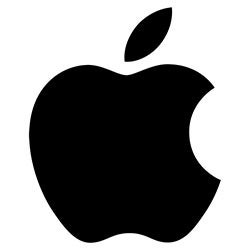 With 17.8% of the global smartphone market in the fourth quarter of 2016, Apple edged out Samsung's 17.7% share to become the top smartphone manufacturer in the world.
Apple sold a company record 78.3 million iPhone handsets during the fourth calendar quarter
, topping the 77.5 million handsets shipped by Samsung during the same three months. While Apple's smartphone sales were up 4.7% year-over-year, Samsung's shipments were down 5% over the same time period. Globally, Huawei (10.2%), Oppo (6.7%) and Vivo (5.8%) were numbers three through five respectively during the quarter.
For all of 2016, Samsung was on top with a 20.8% market share of the global smartphone market. Apple was second with 14.5%. In third was Huawei with a 9.3% share. Oppo and Vivo finished fourth and fifth with 5.7% and 4.8% of the market, respectively. During the 12 months of the year, global smartphone shipments rose by 3% to reach 1.5 billion units. Strategy Analytics said that strong demand for smartphones in China and Africa provided the backdrop for steadier shipping numbers for the industry.
Despite holding on to the top two spots in 2016, Samsung shipped 10.3 million fewer handsets last year, while Apple delivered 16.1 million fewer phones.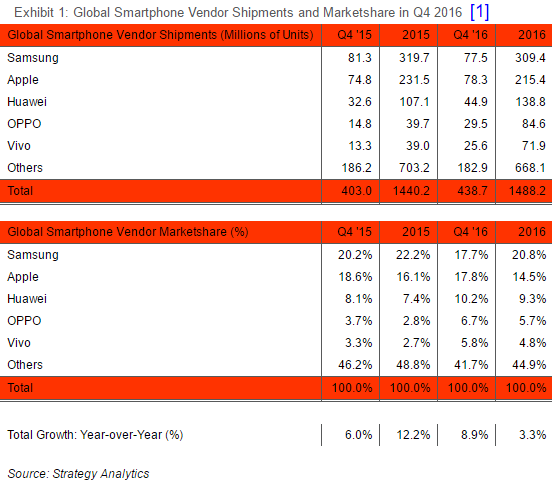 Apple overtook Samsung to grab the top spot for global smartphone market share during the fourth quarter
source:
StrategyAnalytics
via
CNET