Apple analyst Ming-Chi Kuo says iPhone shipments for the current product cycle "have peaked"
69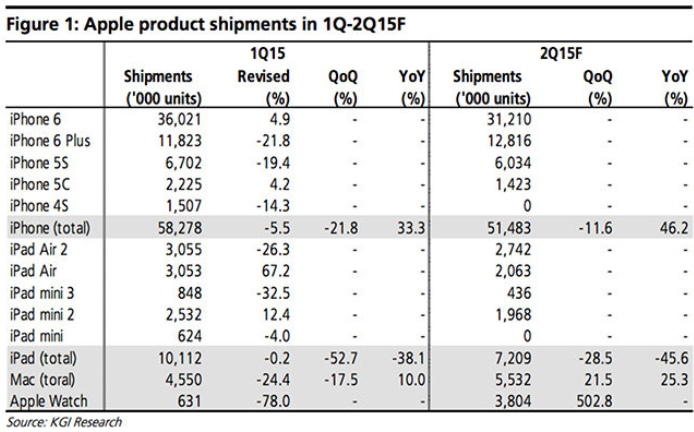 KGI analyst Kuo has lower than consensus estimates for shipments of the Apple Watch over the next two quarters
KGI Securities analyst Ming-Chi Kuo is known for making accurate forecasts to clients when it comes to all things Apple. In a note to investors that leaked out on Saturday, Kuo posted some forecasts about Apple's upcoming fiscal second quarter report that is expected to be released after the market closes on Monday. The analyst sees Apple reporting iPhone shipments of 58.3 million units for the January through March period. That would be a drop of 21.8% from the previous quarter's iPhone shipments,
which amounted to 74.5 million units
. On the other hand, it is an increase of 33.3% from last year's fiscal second quarter number.
The analyst says that iPhone shipments for this product cycle have peaked with the 74.5 million units Apple shipped in its fiscal first quarter. If his predictions are correct, the aforementioned 58.3 million iPhones shipped in its fiscal Q2 will drop 11.6% in fiscal Q3 to 51.5 million handsets. That would still represent a year-over-year gain of 46.2% in the number of iPhones shipped during the quarter.
Kuo also dusted off his trusty abacus and calculated that 631,000 units of the Apple Watch shipped in its first appearance during the fiscal second quarter. While Wall Street was looking for 2 million to 3 million units of the timepiece to ship during the period, Kuo blamed labor shortages and low yields of key components like the Tactic feedback vibrator and the timepiece's AMOLED display, for the lower than expected number of watches shipped in the quarter.
Kuo expects Apple to ship 3.8 million units of the Apple Watch for the company's fiscal third quarter, which started this month and ends in June. Not only is the analyst's forecast below Wall Street's consensus estimate of 5 to 10 million units, it is below the 4.5 million Apple Watches that the company will build during the three month period.
The analyst is blaming "
industry structural changes
" for a rather large 52.7% drop in iPad shipments from fiscal Q1 to Q2. The 10.1 million tablets Apple is estimated to have shipped in its fiscal second quarter is a 38.1% decline from the 16.3 million iPads it shipped in the same quarter a year ago. Declining iPad shipments, partially due to the successful launch of the
Apple iPhone 6 Plus
phablet, will continue next quarter as well with Kuo predicting a further quarter-to-quarter 28.5% drop in shipments of Apple's slate.
Apple will release its second fiscal quarter earnings on Monday following the 4pm EDT close of financial markets in the U.S. We will provide you with the figures as soon as they are made public.
via:
AppleInsider